Living an organized life is the cornerstone of success in all areas of your life. If you are determined to learn, you could become an organized individual. For instance, if you have a lot of clothes or stuff that clutter in your bedroom, you can try organizing them in a closet. But what if you don't have a closet? If you have a spare bedroom, you can use that instead.
Do you want to know how to convert your small bedroom into a closet? If you're looking for some helpful hints on converting a small bedroom into a closet, keep reading to learn about some ideas that will help you transform your bedroom into the unexpected closet you desire.
Can you turn a bedroom into a closet
If your things take up too much space in your bedroom, you can turn it into a closet instead of purchasing an additional wardrobe and possibly making the room overcrowded. If you don't want to include an office space or a dressing area in the rental home, transforming a tiny bedroom close to your main bedroom is suitable. It seems especially useful, especially if the kids have grown up and moved out.
You may have an abundance of spare bedrooms but a scarcity of workable closet space. Why not take it a step beyond and create your ideal closet if the bedroom is currently being utilized for storage? A bedroom to closet transformation can provide excellent returns by increasing the value of your home.
How do you organize a small space with a lot of things
With a well-thought-out plan, anyone can tidy and arrange the bedroom to establish a relaxing and rejuvenating area. The steps for organizing a tiny place with many objects are outlined below.
Make a tracking strategy. You'll need to prepare ahead if you want to clean the trash in one hour. It would help if you didn't get sidetracked while looking for a storage container.
Make a quick sweep. Make a basic sweep of your room. Fill a trash bag with garbage, and carry dirty clothes to the laundry room.
Maintain a system for organizing. Choose one location, such as a bookshelf, and put everything from it on the bed. Then think about each item or combination of things separately.
Empty your closet. See all your clothes quickly and keep just the ones that fit and those you adore. Hang your skirts and pants on suitable hangers.
Look for hidden storage areas. Search for open spots in your bedroom once you've decluttered. Make a list of storage options that you could use to convert these places into more extra storage.
Select a nightstand appropriately. Select a storage alternative like these ingenious floating shelves with built-in storage to conceal the clutter in nightstand drawers.
Make the most of your door space. When it comes to room organization, doors are frequently disregarded. Hooks are ideal for holding a bathrobe or goods that you'll need for the next day, such as your clothes, scarf, and hat.
Organize your clutter. You can get your bedroom organized in an hour if you prepare carefully and work quickly. But don't waste your hard-won win by accumulating additional rubbish once you've reached it.
Can 2 people live in a studio 🤨?

In most cases, you can have a roommate in a studio apartment. Most occupancy standards state that two people per bedroom is acceptable, and a studio apartment is considered to be a self-contained unit with a bedroom. 😇
How do I make closet space without a closet
You may still build a practical room to keep your clothes if you don't have a closet or need extra closet space. If you don't have a lot of closet space, you should keep the wardrobe as little as practicable. Here are ten tips on constructing a bedroom walk-in closet to assist you.
Dressers, rods, and shelves
An empty wall may be transformed into an efficient closet space with the help of a small dresser, hanging rod, and shelf. There is a wide range of approaches to mixing these items to meet your sufficient storage requirements.
Clothes rack
These racks are a great addition to any area that lacks a closet. These are a tremendous benefit to a bedroom without a closet. You can go ahead and purchase one or make one yourself. Nevertheless, you could go all out and put a rack to maximize your room. 
Wall hung organizer
You can put a clothing rack wherever in the room. It is as easy as suspending two sturdy ropes or chains from your wall and utilizing them to secure a pole. You've not only conserved space, but you've also turned your lovely garments into works of art.
Curtained clothes storage
If you put a clothesline in a wall corner but don't want to view your clothes all of the time, hang a curtain rod to disguise your clothing storage. Selecting light-blocking drapes might help protect your apparel from fading due to sunshine in the room.
Room separator
A foldable screen can make a big difference in a room that doesn't have a closet. It gives the impression of possessing a closet by separating the space and concealing your wardrobe while also preventing mess.
Ladder
A ladder would be better for children's apparel, but it will still produce a unique style in any case. Hang garments, scarves, or belts from the rungs of a wooden ladder, or use it to conceal a hole.
⭐⭐⭐⭐⭐"Very versatile product that can be used for the bathroom, kitchen, living room, etc. Nice design, it harmonizes the ambiance!"- Rafael E Alvarez D
Shelves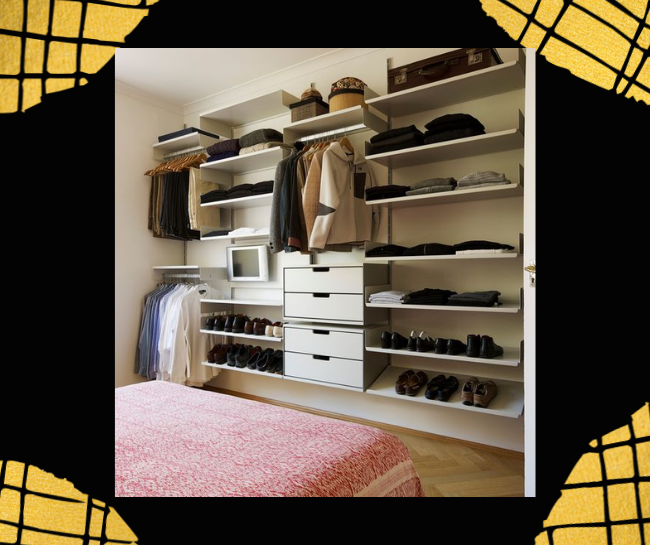 Install some shelves on different levels to showcase bits and ends, make a home for the shoes, or merely a reason to store your jeans. You might even put your clothing rod beneath the shelves to select a specific wardrobe size.
Who invented the shelf 🤷‍♀️?
Two distinct types arose: shelves built into the walls of libraries of the wealthy, and the freestanding piece of furniture, which became widespread after 1700. French designer Charles Andre Boulle (1642-1732) often is credited with devising the low bookcase.
Wall adhesive hooks
Wall hooks are ideal for halter tops, harnesses, and scarves, but then who thinks you can't also use them to hang shirts and jeans? It's also an excellent way to store hats and bags without taking up too much room. If you place them on themes, you may drape your preferred clothing items from coat hooks almost as simply as a clothes rod.
Wooden crates or boxes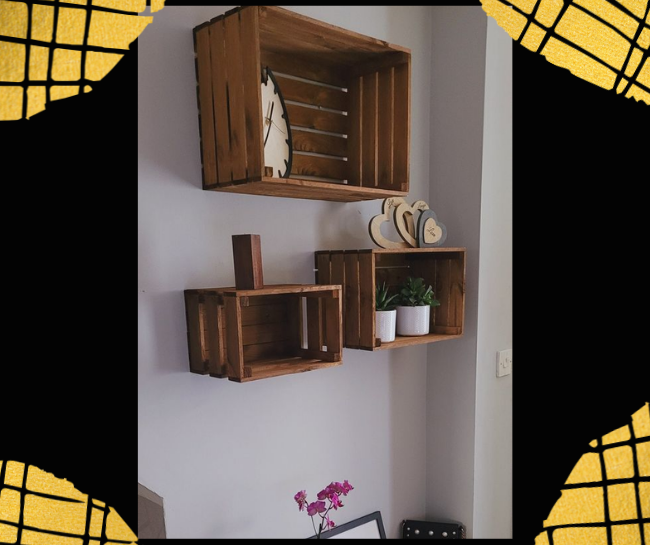 These are very cute, and they're always in fashion. It is perfect for the rural glam vibe. Pile wooden boxes containing neatly folded trousers, sweatshirts, and t-shirts, then put a storage bench inside for small items, such as socks.
Storage baskets
Using storage baskets for personal socks and underwear, t-shirts, PJs, and other smaller items will help keep things organized. You may also use different colors for different types of stuff– shirts, jeans, and jumpers.
How do I keep my things organized
Staying organized doesn't have to be complicated. In fact, you could do a few easy things to maintain your life on track. The following are some guidelines you can use in practically every organizational situation, big or small.
Keep your stuff to a minimum. You have to take home new stuff less frequently and discard old ones.
Organize similar items. This concept applies to a wide range of objects, including cookware, instruments, and plays. Put wine bottles in one cabinet and plates in the other.
Maintain a junk drawer. Having a rubbish drawer helps relieve the stress of organizing minor odd objects. However, such a space should be limited to a few drawers or compact storage boxes.
Don't strive for perfection. It's pretty tough to maintain perfect organization at all times. It's preferable to be semi-organized than entirely disorderly.
Thanks for reading! I hope you enjoy it 😎 Don't forget to check out our blogs!
Read Apartment Rules: Can You Drill Holes In Your Apartment