Personal style should be taken into consideration while designing a home office. First and foremost, you must decide if you want a contemporary, vintage, eclectic, or classic style for your yellow home office before you can begin choosing the materials and equipment that will be used in its construction and decoration. Your selection of yellow as the primary color is the first stage; the subsequent steps will depend on various elements and considerations, which will be discussed more below.
💡 If you use too much yellow in your design, it can become unsettling. Yellow's emphasis on logic can cause people to be overly critical.
Productivity will always be the major purpose of building a home office but don't let that discourage you from having a little fun on the side. Introducing an unexpected flash of color by means of an accent wall or vivid furniture might be the difference between a snoozy workstation and an energetic one. The color yellow instantly comes to mind here, with its happy mood and vibrant spirit. Not only that but using warm and vibrant colors, such as yellow, can boost the mood of your workplace and motivate you to be more productive! In this article, we'll present some yellow home office decorating ideas that can help you revamp your workspace.
Is yellow good for an office color
Yellow is a vibrant color. It is a symbol of originality, friendliness, optimism, and self-assurance. When you wish to inspire enthusiasm, innovation, and happiness, use the color yellow in your design.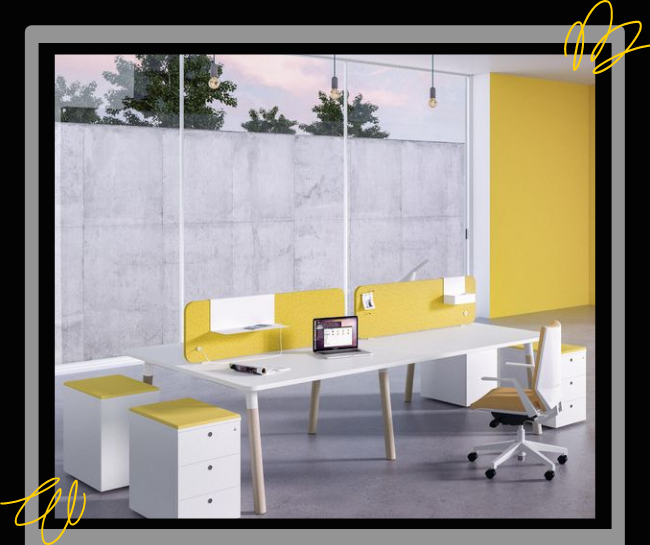 For establishing a secure atmosphere, yellow may be a fantastic choice–either for relaxing or for instilling confidence and enthusiasm, which can be very useful when making significant project choices and problem-solving. However, note that yellow, like the color red, may be quite overwhelming in some situations. Hence, it has been proposed that it should be utilized more as an accent color rather than the significant color of the space.
Furthermore, yellow is the most visible hue on the color spectrum to the human eye, so be mindful of how much of it you're putting into your office environment. There are so many shades of yellow in the world, each having a unique influence on the human psyche, that you should go with your instinct when picking a color. But don't forget about the way the human eye perceives color.
⭐ Remember that the impression of how people respond to and interpret color is influenced by the size, positioning, finish, pattern, and the surrounding environment.
Yellow home office decorating ideas
When used in the home office, a dash of yellow may entirely transform its mood. The more moderate the color palette of your yellow home office decoration ideas is, the better it will seem visual, according to the experts.
Lovely decor
Yellow décor is an easy way to bring color to your home office without a significant overhaul. The home office is a great place to add color with wall-mounted shelves, a desk, a chair, and extra cupboards and storage.
Moreover, yellow filing cabinets are also a charming alternative, and they would help organize the workstation. If you're using yellow as a splash of color against a neutral backdrop, repeatedly use it throughout the room for a more balanced look.
💡 Yellow, like blue, is thought to be the most calming color and is best suited for classrooms and hospitals. It creates an energetic and cheerful atmosphere in the room and is said to send out positive vibes.
Gray & Yellow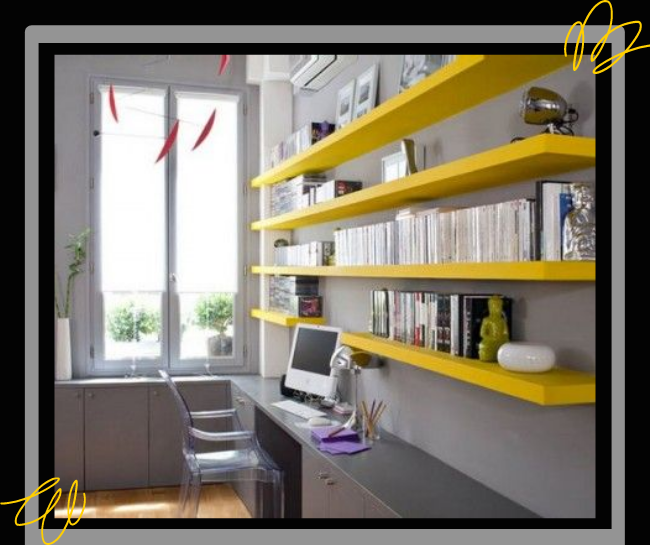 Vivid flashes of accent colors offset a polished, elegant background in this stunning gray and yellow combo. Gray is undoubtedly the most popular neutral color and has been trending for a long time. Also, the home office is an excellent spot to experiment with several shades of gray before committing to a color scheme for the bedroom and living room. Even when applied sparingly, yellow adds energy and shine to this mix.
Cozy cloak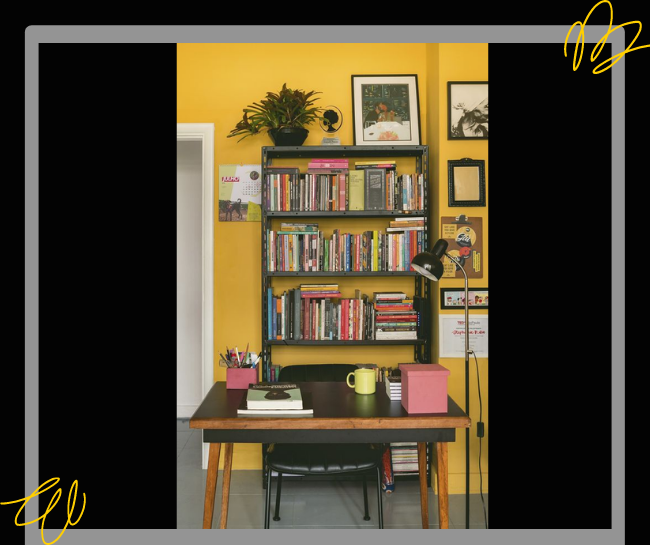 A mellow yellow home office decorating idea is excellent for people who like the color and want to break away from the traditional neutral color plan. The color yellow defines an inviting bedroom with its warmth and elegance. This matte yellow background looks well with classic, rustic, farmhouse, and antique themes.
Themes & patterns
Do you want to have a unique home office? Indeed, even big giants like Google turn to color and creativity for more engaging workplaces. Less daring individuals might choose yellow and white stripes and chevrons. Meanwhile, others may choose wall art, stencils, graffiti, or an eclectic mix of brilliant yellow, robust reds, lush greens, and peaceful blues. Yellow will blend well with your home office's current design or color palette.
Accents and decors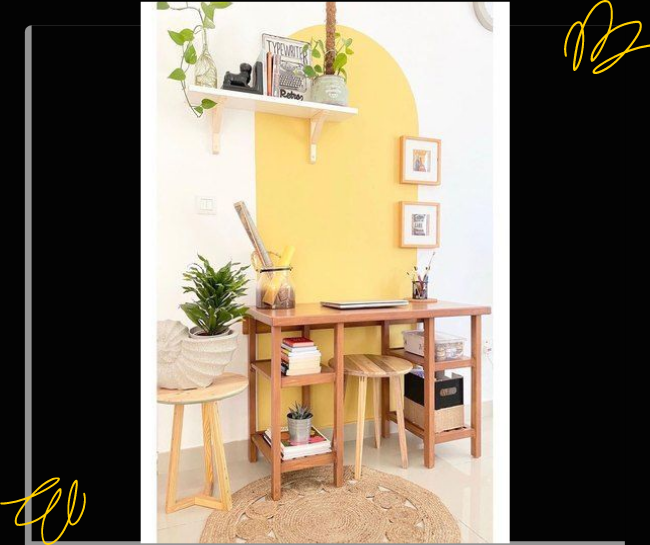 Although a bold splash of color on an accent wall is typically a particular method to brighten up a space, we are huge supporters of an artistic approach to the process. On a bookshelf hung on the wall, a vibrant arrangement of plants provides the right finishing touch to the overall look.
Minimalism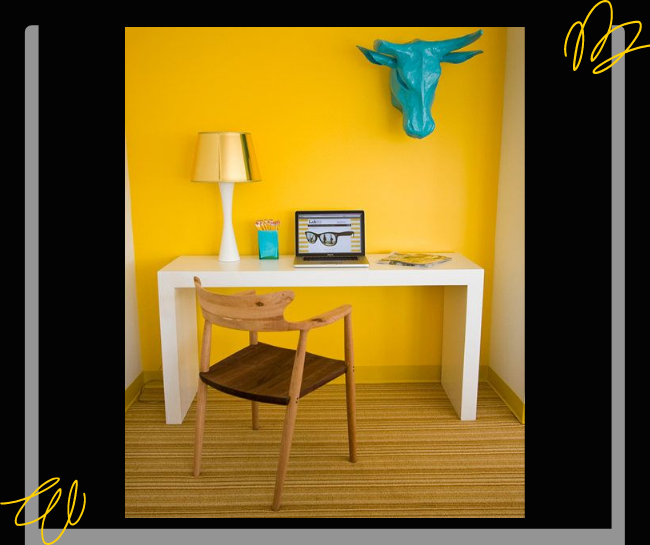 Adding a minimalist design plan is a simple way to soften the starkness of the "less is more" approach to decorating. As seen by this gorgeous closet-turned-office built by MDDM STUDIO, the deep warmth of yellow is sufficient to make up for the lack of home office décor and wall art in a minimalist setting. Take heed, those of you who live in small spaces.
Create a divide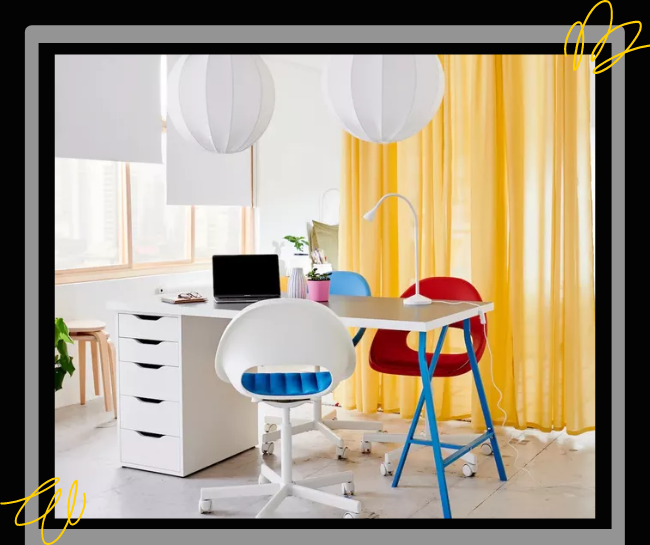 If you're feeling adventurous, try using some temporary decorations like window coverings, or take a cue from this intriguing scene from IKEA and go for a bright yellow drape that cleverly serves as a room separator. As shown here, the main color scheme is elevated by working within a limited color palette of complementary bursts of blue and red, which are displayed with the use of office furniture to create a visually arresting final product. In addition, a sufficient quantity of natural light would be beneficial.
Yellow traditional home office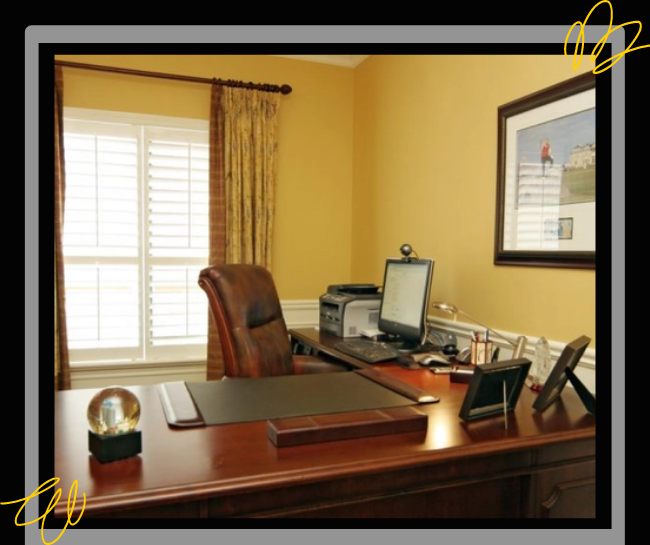 The use of a pale yellow as the primary hue conveys a conservative and traditional attitude toward nature. It is this place that should serve as your motivation if this is what you want to accomplish. The bright hue of yellow and the L-shaped desk with a solid wood top are all appealing. The leather office chair serves as an unmistakable indication that this is the man of the house's personal workspace. Take a cue from this area and include elements of your favorite hobbies or sports in your home office to make it more personal. This room is decorated with framed photographs and draperies that are golf-themed.
Adding prints to the mix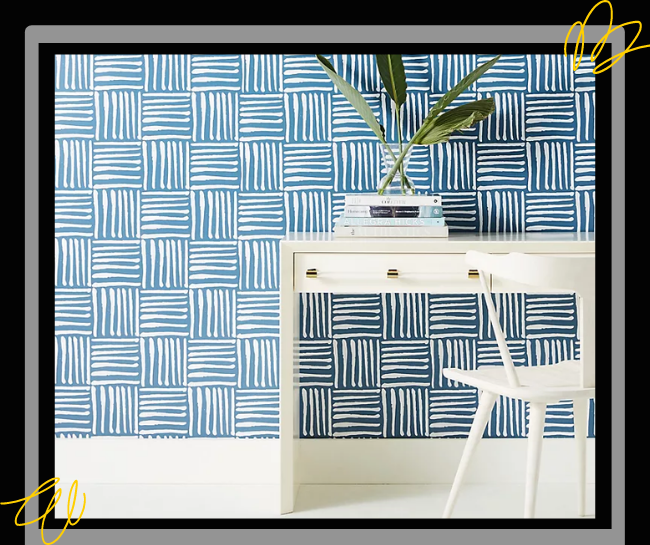 The use of wonderfully patterned wallpaper in your home office is surely one method to make a big statement when it comes to home office decor ideas. This pattern, which can be found on Anthropologie, is modest but compelling, with a geometric design that is neutral enough to go with a number of themes – whether they are boho, vintage, or contemporary. Moreover, pairing the backdrop with a gallery wall of collected art and décor in a similarly vibrant color scheme will provide an element of intrigue.
Bohemian haven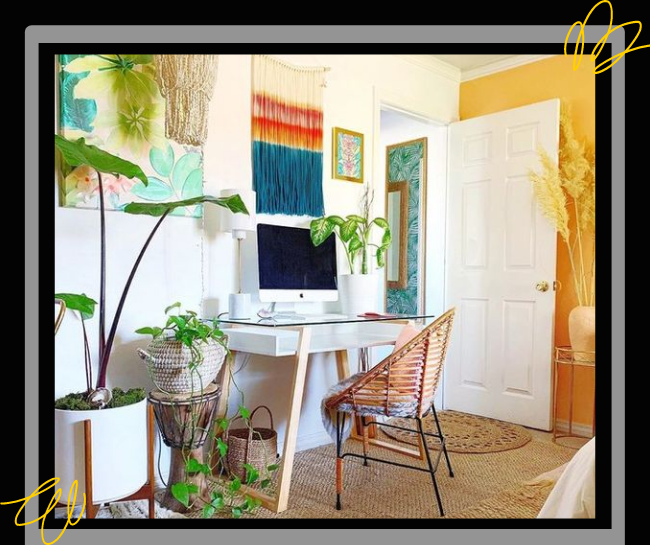 Colored walls may be a simple way to inject a dose of cheerfulness into a place, and that emotion can go a long way in a home office environment. A bohemian concept was in mind when the creative designed the space, which was stacked with jute area rugs and woven décor elements. To finish it all off, add some bright greens to the mix, which perfectly balance the bright yellow.
⭐ According to Karen Haller, Behavioural Color & Design Psychology expert and author of The Little Book of Color, "this is the color that stimulates the nervous system and you can wake up feeling irritated, which is not how you want to start your day."
Know the ways to make your home office more zen and productive! Click here.
We would love to hear your thoughts! Share it in the comment section below 😇