Even while Gothic culture reminds people of dark and gloomy components, this does not refrain you from using it as a decorative style in your home office. A Gothic design does not have to make your house seem spooky and frightening. Instead, the Gothic design uses dark hues and ornate features to create a rich Victorian aesthetic, making it the perfect style if you appreciate old-fashioned elegance.
There are several ways to design your home office with Gothic features. You do not need to adhere to a specific style, such as Victorian or traditional. You may choose Gothic vampires or romantic backgrounds. This is the right place to learn how to incorporate a goth home office.
🖤 Gothic architecture, in contrast to Roman and Romanesque architecture, was dynamic, perforated, airy, and light. Gothic architecture was characterised by accentuated vertical proportions, i.e. very developed height. Gothic churches typically had three naves, each preceded by a porch and ending in a deep but short transept.
What is the meaning of the gothic style
What comes to your mind when you think of the Gothic style? Dark, spooky, and maybe a little bit haunted? While that may be true for some, Gothic style doesn't have to be all about the doom and gloom. In interior design, Gothic is all about creating a dramatic and stylish look with lots of texture and deep rich colors.
This eye-catching style can also be reliable when it comes to home improvement projects, as it tends to be highly durable and easy to maintain. Whether you want to give your home a timeless look or incorporate an unexpected twist in your décor, the Gothic style is an excellent choice.
Key elements in Gothic Style
Gothic design is often characterized by deep, rich colors. For a home office, consider using dark hues like black, navy, or burgundy.
Another hallmark of the Gothic style is furniture with heavy, ornate details. If you want to add a touch of Gothic elegance to your office, look for desks and chairs with intricate carvings or metal accents.
To complete a Gothic look, try incorporating fabrics like velvet or brocade into your office design. These materials can give your space a sense of rich elegance.
Religious symbols and imagery for statement:
One way to really make a Gothic statement in your home office is to use religious symbols and imagery. Crosses, gargoyles, and other items with religious or dark connotations can add an air of mystery to your space.
Use of light and shadow to create a sense of drama:
Gothic design often makes use of light and shadow to create a dramatic effect. You can try out this technique in your home office by incorporating lamps or other lighting features that create shadowy corners or highlight specific areas of your space.
By incorporating these elements into your home office decor, you can give yourself an elegant and sophisticated workspace that is perfect
24 gothic home offices that will make you productive
You can't underestimate the importance of a well-designed home office. With many of us needing to work after hours or opting to work out of the office, a wonderful home study space is more important than ever. Here are the 25 goth home office ideas that will inspire you to work from home:

Intricate moldings
Moldings are a simple way to add texture and refinement to buildings and other studio offices. Molded panels on the walls are a fantastic example.

Black decorative accents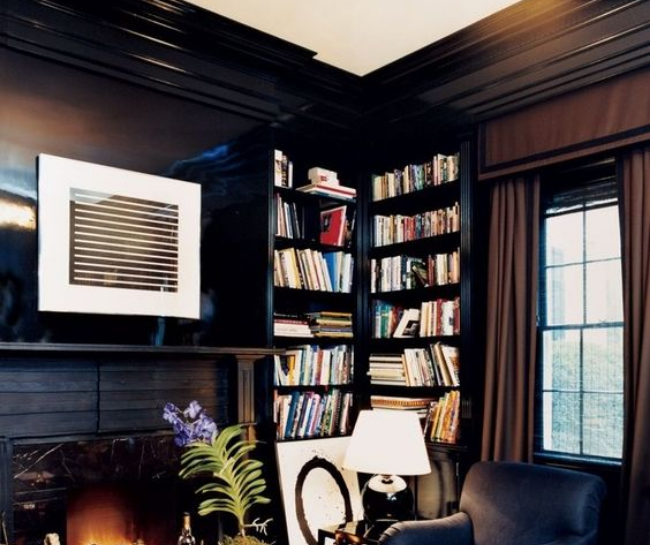 The primary color used in Gothic décor is black, but it doesn't mean you have to go all out and design your whole office in black. To enhance the appearance of your home office, accent some of your pieces of furniture with black.

Dramatic drapery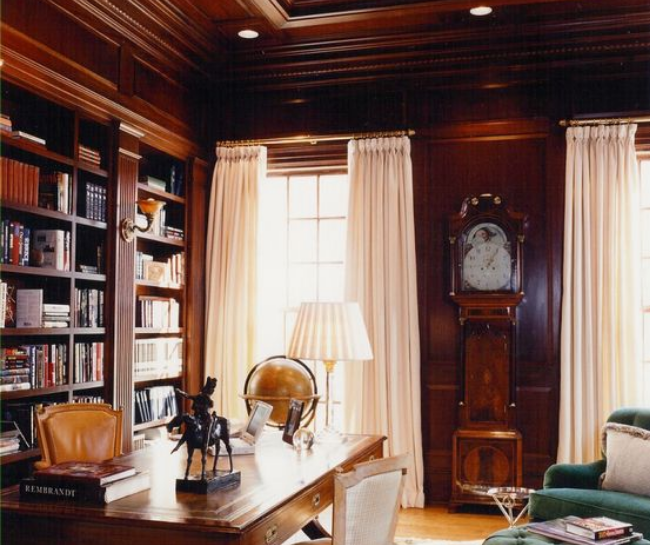 Consider using dramatic drapes to block out bright light while still making a striking statement in the space.
🖤 While the Gothic style varies depending on location, age, and type of building, it is frequently distinguished by five key architectural elements: large stained glass windows, pointed arches, rib vaults, flying buttresses, and ornate decoration.
Rustic wooden storage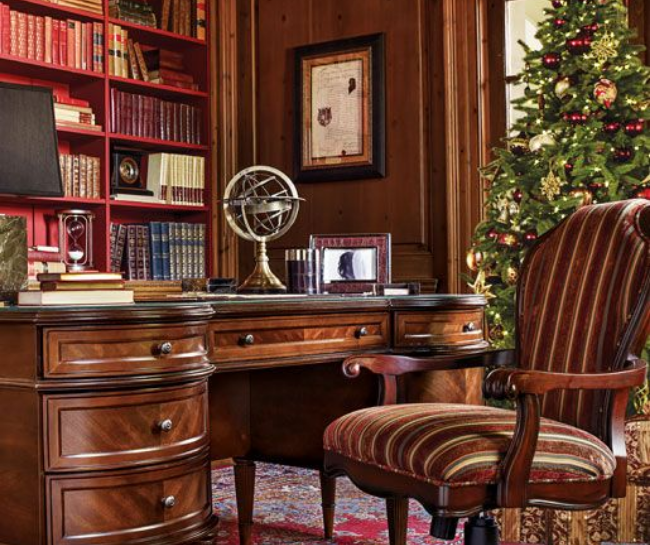 A goth home office with a rustic wooden storage unit with open shelves, metal with wooden furniture, and vintage posters create an exquisite environment.

Chandeliers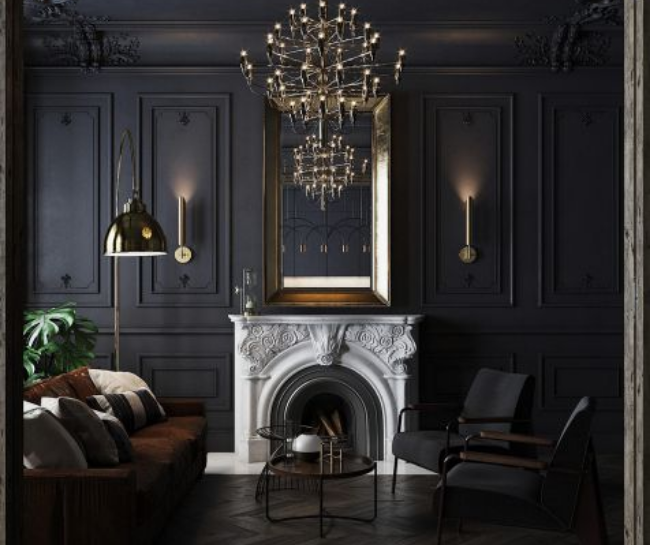 A chandelier is the best method to add Gothic beauty to your space. A bare light fixture with gorgeous crystals will suffice if you have a tiny workplace or low ceilings.

Dried flowers and Foliage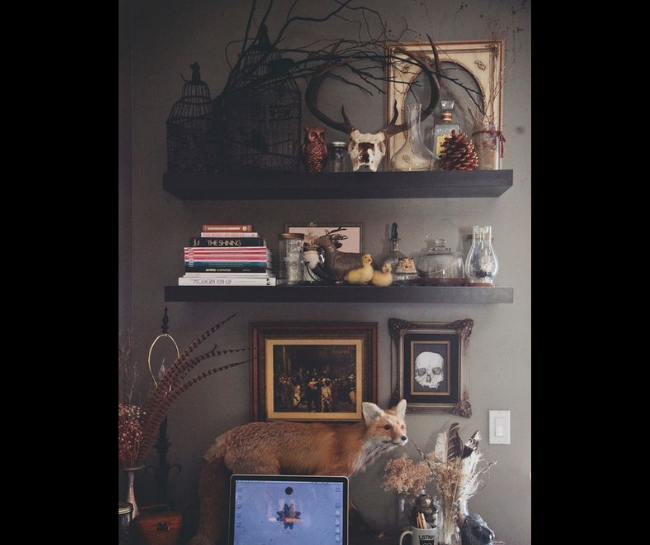 Like a plethora of oddities and curiosities, Gothic-inspired décor is frequently adorned with dried flowers and vegetation. Add foliage and dried flowers to your home office design to make it more classic.
Recreate Lancet windows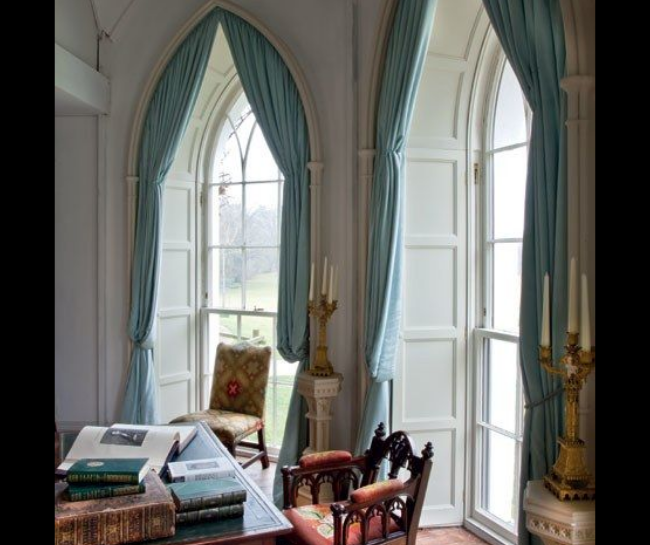 Lancet windows are a typical interior design feature in Victorian Gothic architecture. You can replicate the appearance by using a contemporary mirror with a vaulted design.

Dark furnishings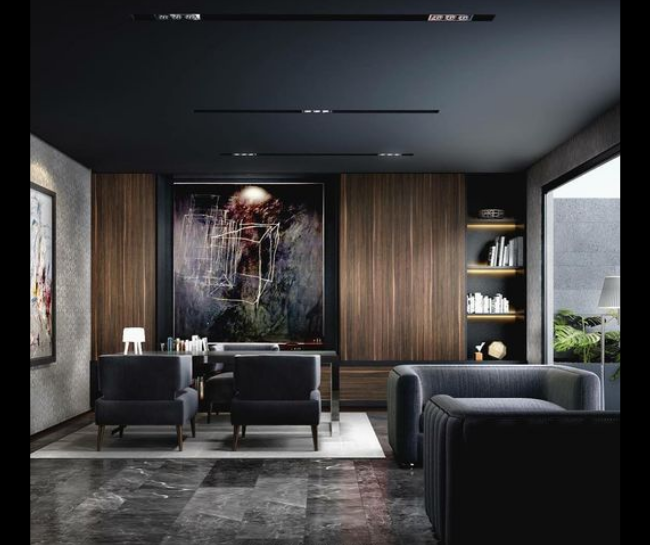 Unless you want to go all out, you don't need to paint all of the walls in your workplace black. Just add some black furniture like the couch or coffee table to complete the appearance.

Antiquing for Oddities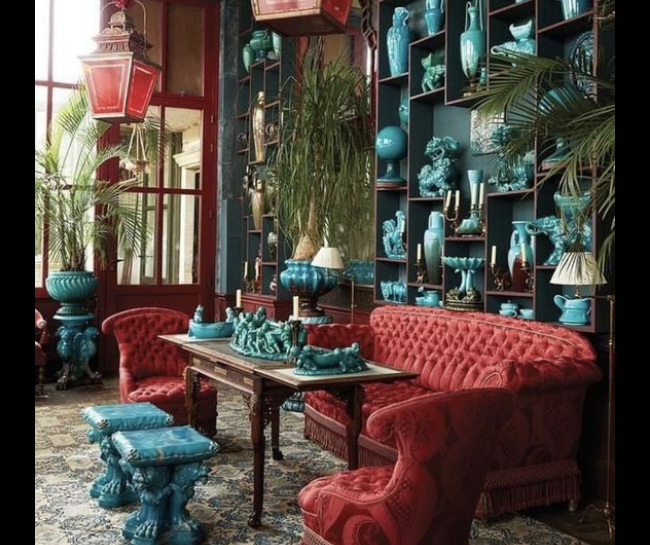 A variety of elaborate accessories on display, such as ceramics, stones, and other curiosities, is a common feature of Gothic-inspired design. Begin your collection by antiquing your workspace and allowing your office to explore the beauty of the red and blue-green combination.

Go, minimalist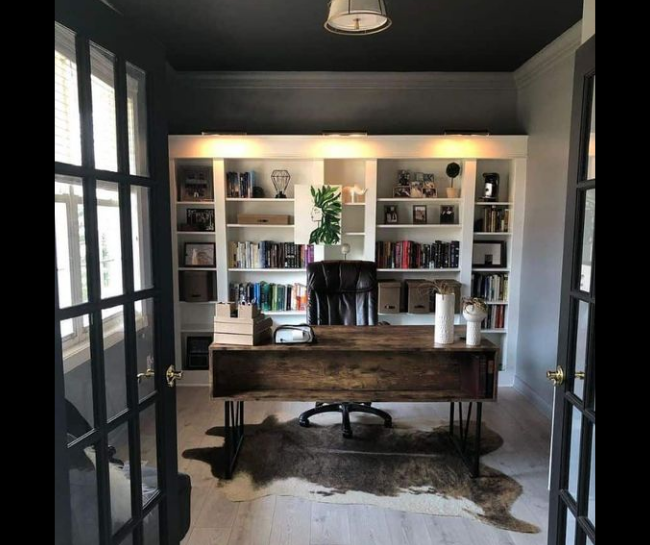 A Gothic home office with grey walls and panels, a modest table and a black office chair, a striking piece of art, ravens, and a classic metal desk light is suitable for minimalists like you.

Love Modern Gothic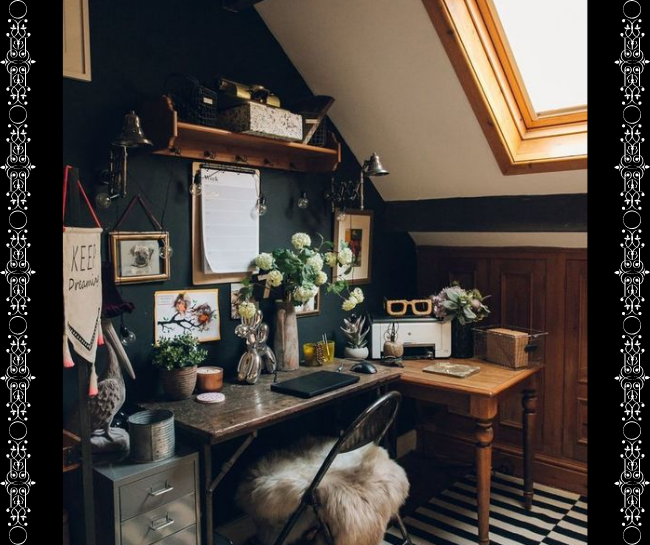 Make your home office gothic-inspired with a touch of modernity. Paint your wall black and make your office structure a gothic design. Allow your Goth office to be blended with a modern and minimalist design and add a flower accent.

Candles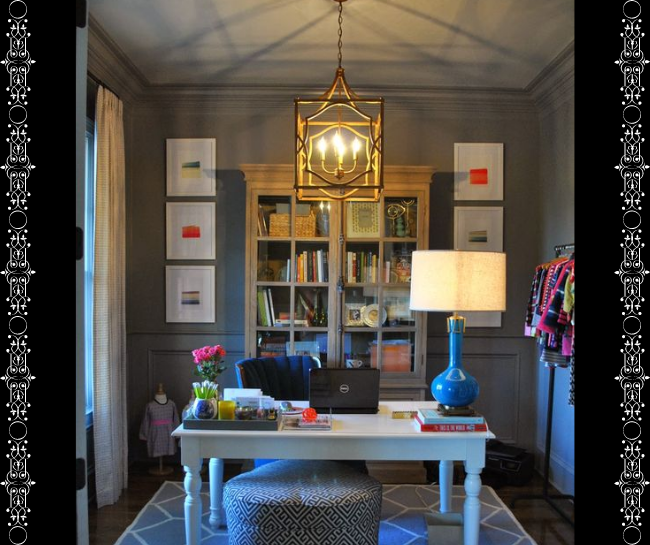 Without an abundance of candles, no Gothic-inspired environment is complete. They provide another element of aesthetic appeal to the area by emitting a warm light.

Wallpaper
If you want to make a bold statement in your business, a detachable Gothic Victorian or damask wallpaper is a great choice. You also don't have to worry about changing the style of your walls whenever you desire.

Gothic design desks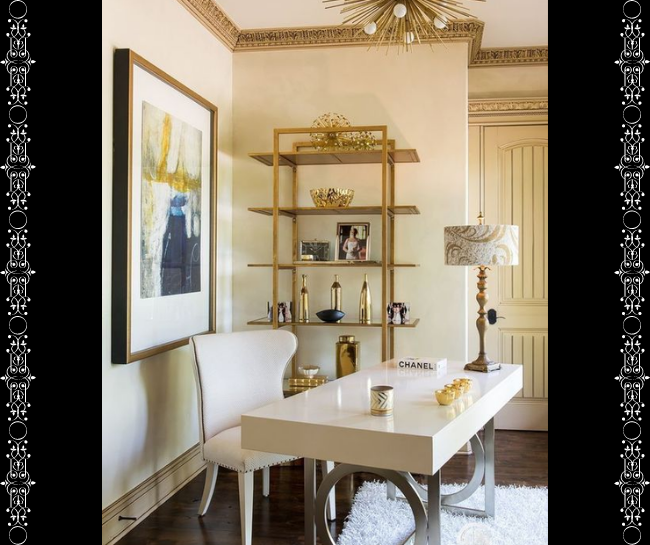 Make a classic poster gallery wall, bookshelves, a Gothic desk and a chair, and a classic table lamp for your home office.
Make your home office classic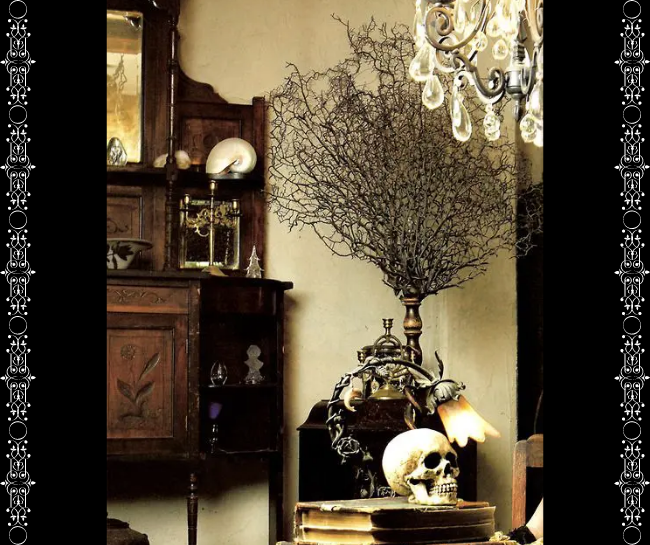 You can also invest in an elegant Gothic home office with deep, dark, intricately carved furnishings, a crystalline chandelier, piled volumes, skulls, and eye-catching accessories.
Fabrics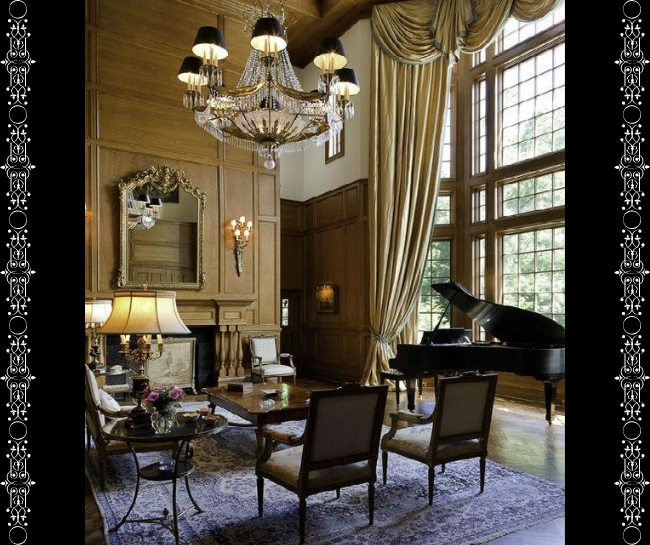 High-end materials should not be overlooked in any goth home office. Satin, velvet, and silk are ideal fabrics.
🖤 Around 1231, Hugues Libergier, a Gothic architect, began developing the style in the Abbey church of Saint Nicaise in Reims, France.
Arched Mosaic Window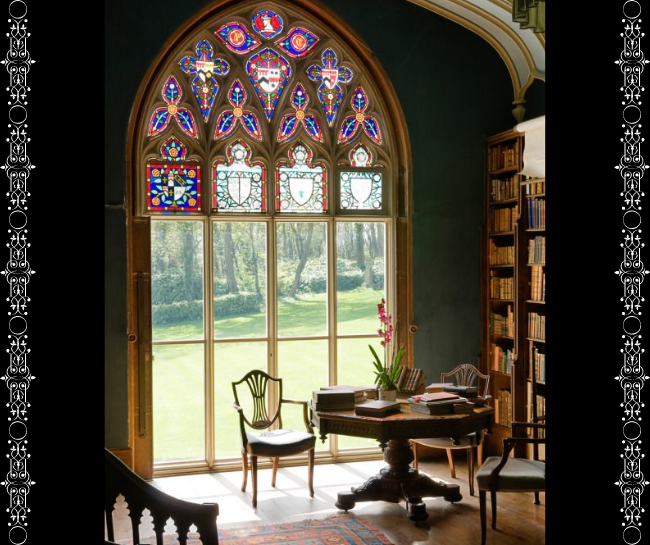 A Gothic-styled home office with an Arch Mosaic window, stained wood, heavy furniture, and a bookshelf is a stunning area.
Gothic revival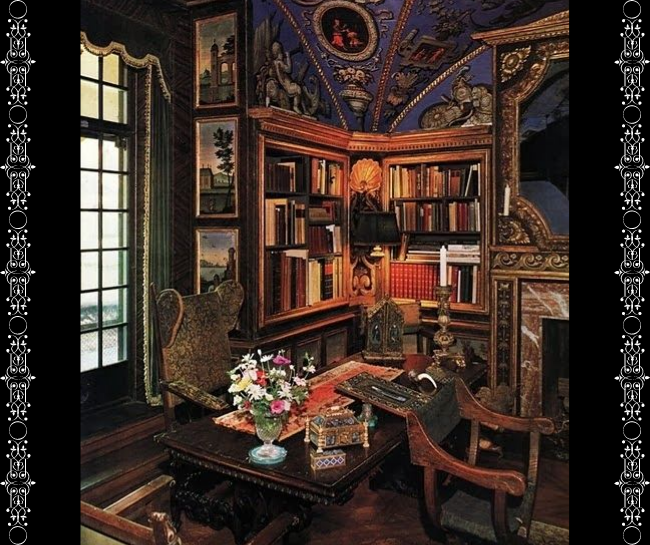 A dramatic Gothic renaissance home office with built-in bookcases, hefty carved wooden chairs, bold artworks, and a lovely lilac ceiling with paintings provides peace while you work.

Moody yet refined ambiance
A stylish and dark goth home office with a hefty desk and chandeliers, a gothic office chair, a side lamp for ambient lighting, and vintage-style storage units will undoubtedly make you productive.

Accessories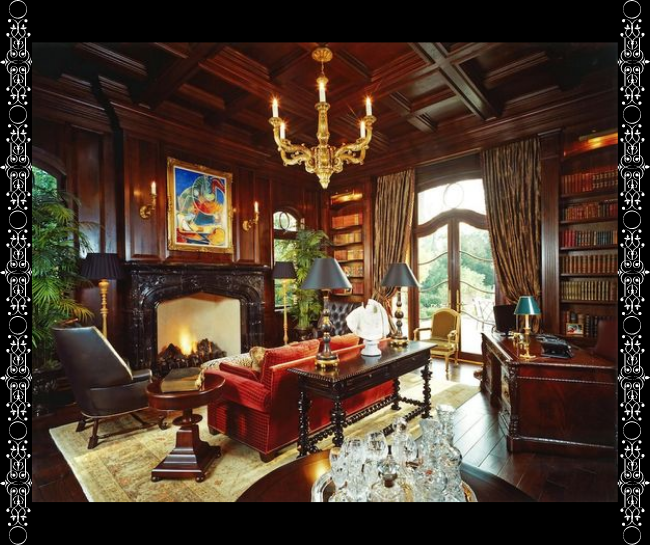 If you want to make your Gothic house appear especially luxurious, opt for intricate table lamps, chandeliers, a large carpet, a fireplace, and a beautiful piece of artwork.

Rise bookshelves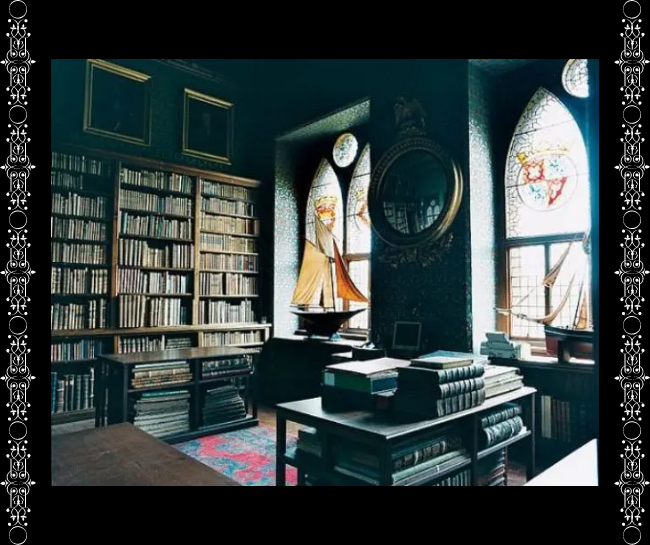 Make a home office with bookshelves that reach the ceiling, curving stairs, a richly carved desk in the middle, and a chair that seems like it belongs in a movie.

Invest in Dark Vintage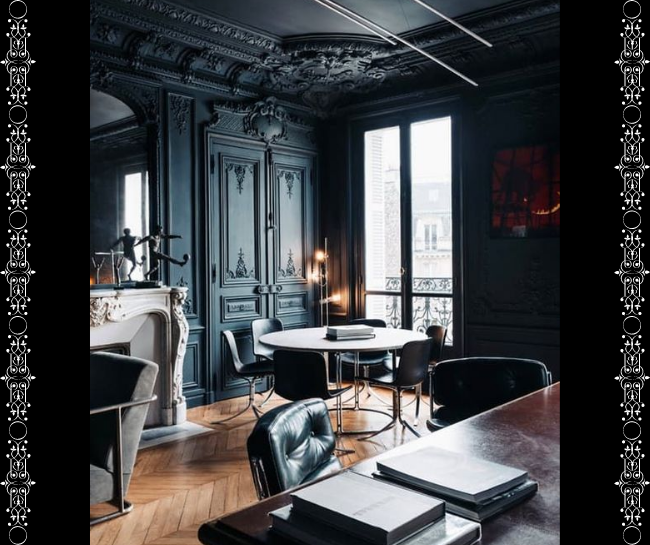 Choose a comfortable dark antique home office with large dark decor furniture, lancet windows, a desk and seats beside windows, and antique designs in retable.
Sophisticated mood
A contemporary home office with a Gothic ambiance, black ceilings and walls, a weird desk, trendy and flowery chairs, an antler fixture, and a vintage art display.

Vintage theme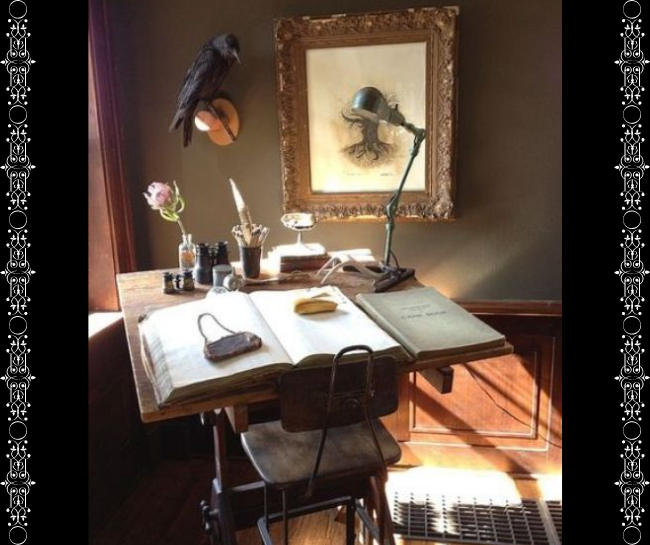 A beautiful home office with vintage print wallpaper, a black desk, a vintage gallery wall, a black chair, some books, and a table lamp will be a motivating area for a gothic lover like you.
Click this link to know how to make your home office more zen and productive.