Gaming is a terrific way to have fun, relieve stress, and improve your eye-hand coordination. Whether you are a starter or a seasoned veteran gamer, having the right bedroom gaming setup ideas for small rooms is essential if you want to play for hours straight. However, there are some factors to consider if you wish to have the best gaming bedroom setup at home. Thus, the best option is to transform your small gaming rooms into multi-functional spaces where you can play games, sleep and entertain. So, to make the most of your gaming session, here are some bedroom gaming setup ideas for small rooms.
What is the best color for a gaming room
The best color for your gaming room is mainly based on your preferences, what looks nice to you, and what you want to accomplish with your bedroom.

To help you, here's an example list:
Blue
Green
Red
Black
Purple
Orange

According to the source, green, black, and blue are the best colors for gaming rooms. So pick the ones that appeal to you the most and start designing your space. 
What do I need for a gaming bedroom
Professional gamers believe that a gaming chair is insufficient. If you have a gaming room or want to construct one, you must select what gear and equipment to have in your space. You don't want to acquire too many gaming devices and overlook the components that make a game room practical. So, here's what you must have in a gaming room:
Gaming table
Gaming computer
Gaming accessories include a mouse, mouse pad, headset, wireless keyboard, webcam, chargers, and speakers
PC cabinets
WIFI
Electric cables
RGB lights
Cushions
Wall decorations
💡 During the 1970s and 1980s, arcade video games, gaming consoles, and home computer games were introduced to the general public, bringing video gaming into the mainstream. Since that time, video games have grown in popularity around the world and are now an integral part of everyday life for millions of people.
How do I turn my room into a gaming setup
To turn your room into a gaming space, you must take several steps. Considering the size of the room, decent speakers, gaming seats, wide projectors, monitors, high-quality soundproofing, a gaming TV stand, a wi-fi router, and RGB lighting would be beneficial. Also, electricity installation, gaming accessories, and panels are all things to look at. Furthermore, whatever you choose, keep adding gaming decorations and intriguing wall art. Another suggestion is to create an environment that resembles the game spirit.
Small room gaming setup ideas
It is simple to create an entertaining gaming room with little space. There are several simple solutions to design a tiny gaming room, ranging from gaming chairs to space-saving furniture like gaming tables. Hence, we've compiled a list of 30-bedroom gaming setup ideas for small rooms for you to have an enjoyable and relaxing game room.
Dramatic gaming bedroom idea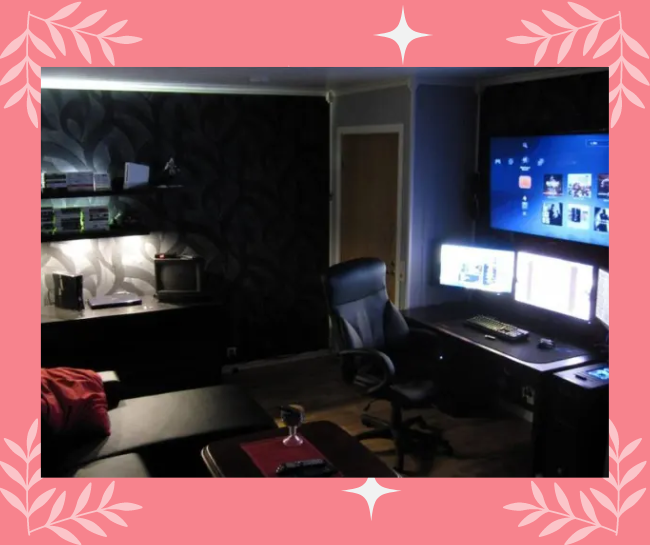 You may rest on the sofa when you're weary of playing for hours. Dark hues are used to paint the gaming room. The dramatic ambiance energizes the player as the game transforms into numerous hues with maximum loudness.
Purple gaming bedroom decor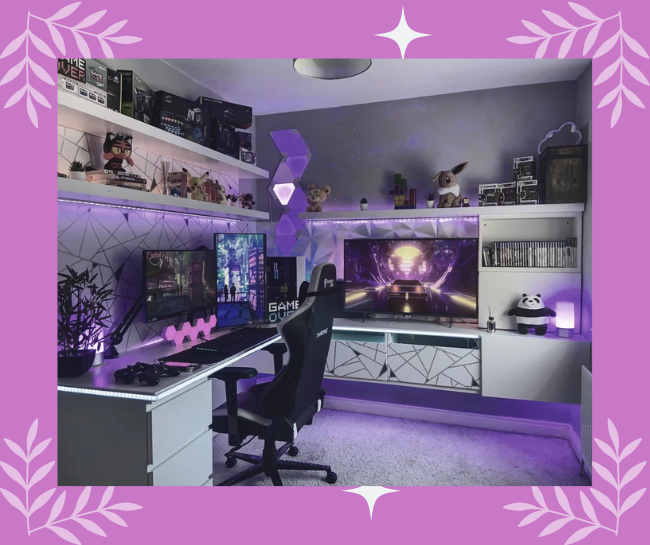 You'll have the ideal gaming area with a few beautiful purple decorations. Add a high-quality desk as well as a TV stand. The purple light bulbs also provide a soothing vintage gaming room atmosphere.
Pink lighting gaming bedroom concept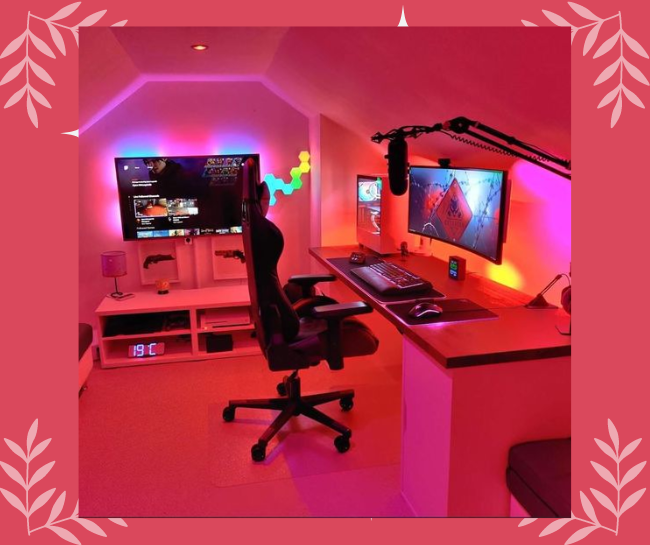 The pink light gaming bedroom concept is ideal for enthusiasts of bright and dramatic colors. This might also serve as both a TV area and a gaming room.
Grey shades gaming bedroom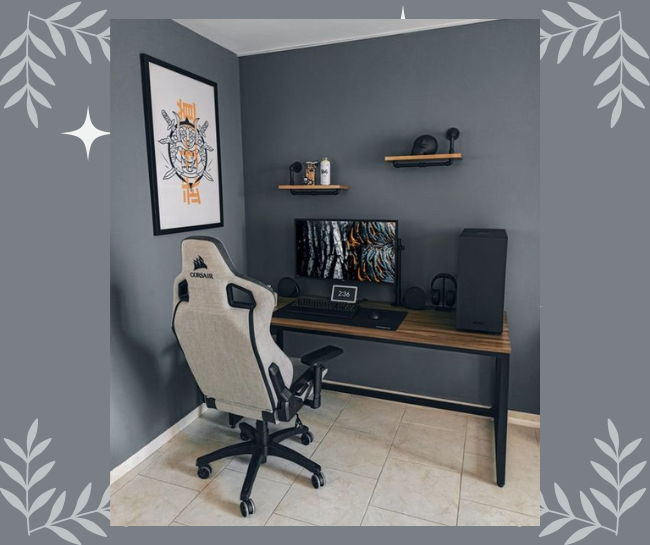 The grey-toned gaming bedroom idea is simple and inviting. Add a sense of nature and a few inspirational wall art pieces to round off the look.
Who is the world's best gamer, and why?
Ninja. What's that you said? Both insiders and outsiders in the gaming industry are likely to recognize the moniker Ninja as the most well-known professional player. Even though he's participated in a number of tournaments, his primary interest in gaming is his profitable streaming career rather than actual game participation.
Black and gold gaming bedroom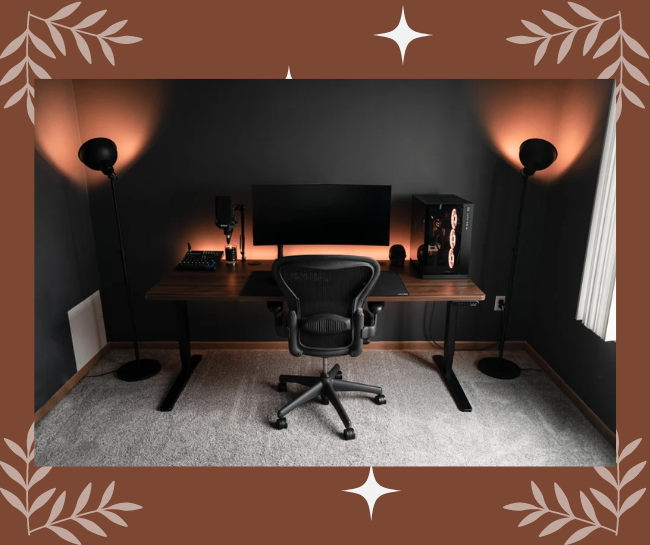 With this black and gold setup, you have a simple, stylish, and stunning gaming room. This design radiates luxury with its slick black walls and matching black hardware.
Gaming room with shelving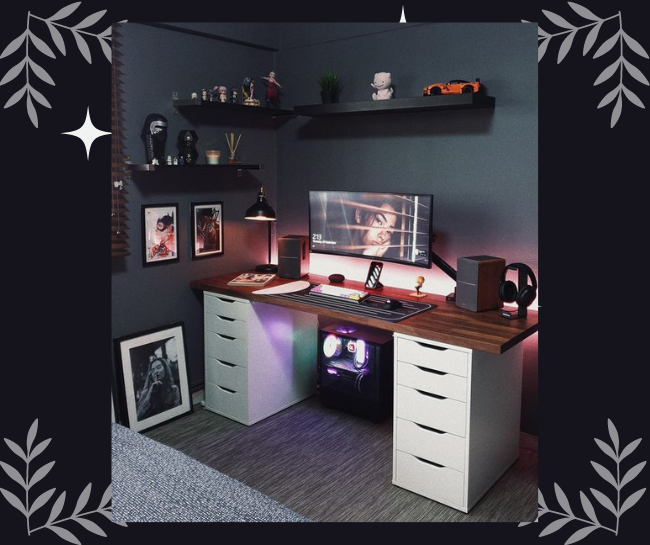 It's a good idea to display cool artifacts on shelves and inspirational wall art if you have some. This helps to make the most of the available area. Also, a beautiful neon light background is usually a good option for decorating.
Wood motif gaming bedroom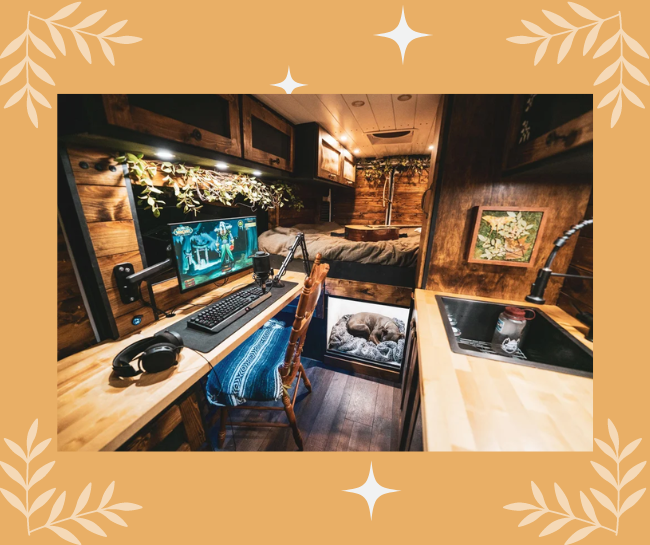 It has a trendy dark wood floor, a wood mirror, and a brown leather sofa that separates the living area and sleeping section.
Multi-purpose gaming bedroom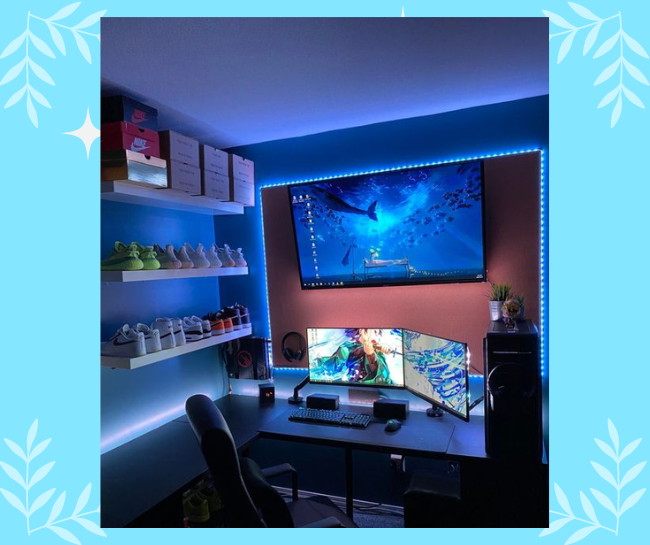 This gaming bedroom has an office area that also serves as a shoe storage area. This three-monitor gaming setup is enhanced with soothing blue neon lighting and a black furniture background.
Ocean-themed gaming bedroom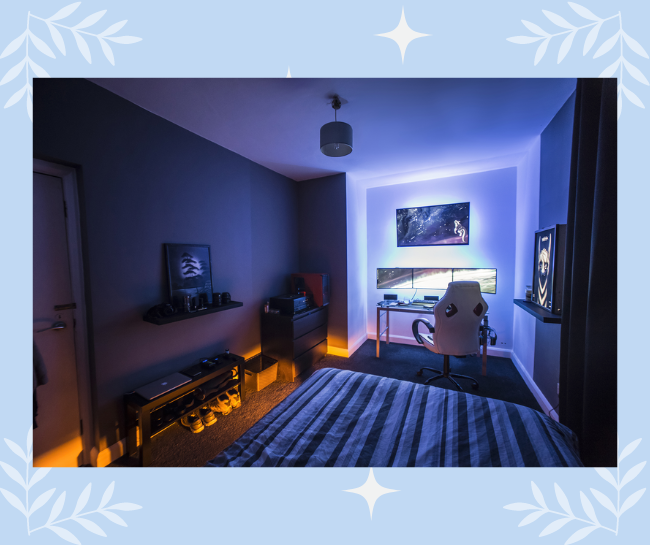 Don't be scared to experiment with different wall colors. The modern ocean-themed room combines blue with gorgeous oak furnishings. The space is light, airy, and lively.
Abstract gaming bedroom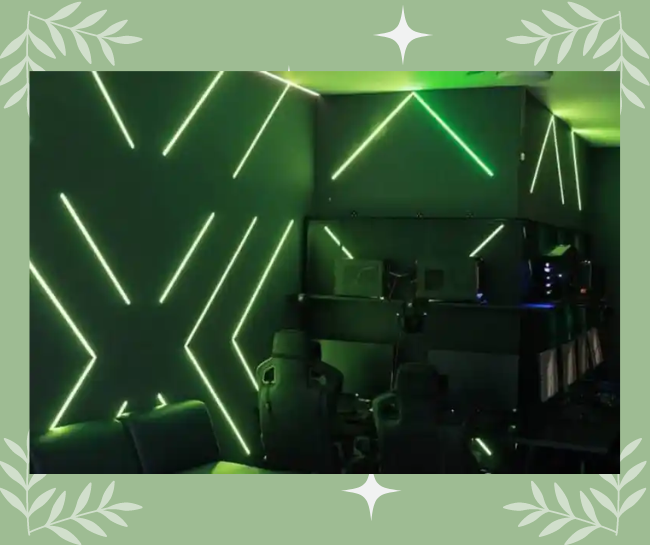 This magnificent gaming room idea is about the atmosphere it creates for an artistic work we all enjoy. It includes neon lightning and artistic wall arts that gamers would love.
Minimalist gaming bedroom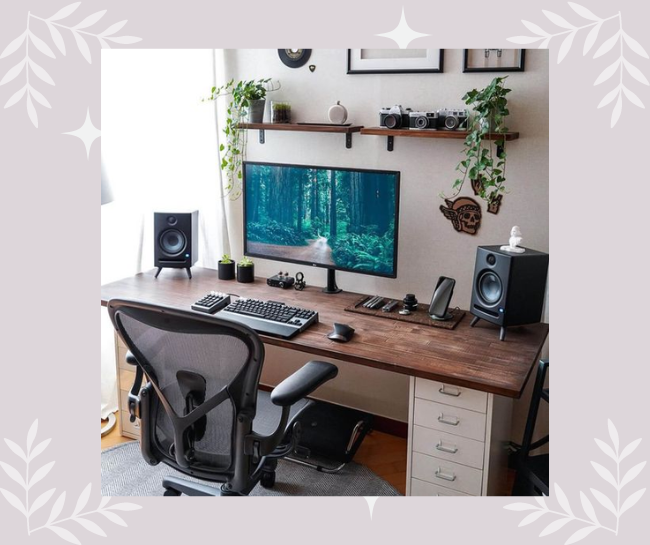 This colorful gaming bedroom idea is an excellent example of making the most of limited space. If you have numerous speakers, a huge screen, and a desk, it's a good idea to put them all in one area of your room. Decorate the room by adding a few bright lights and plants.
Moon and space gaming bedroom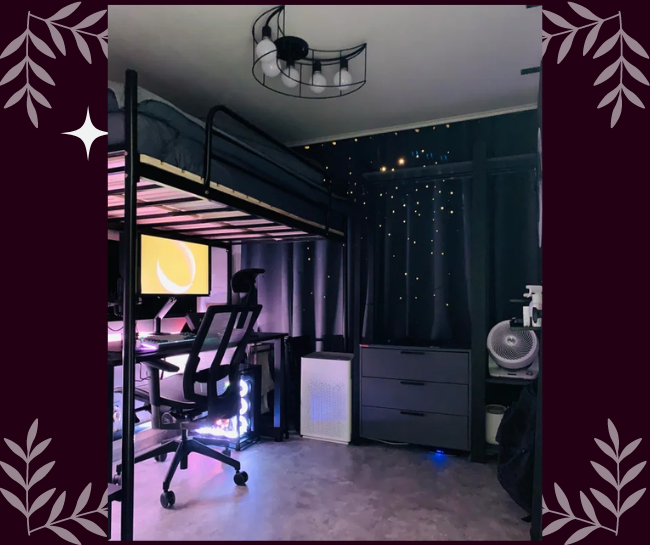 A loft bed is a terrific option if you want to make the most of the space in your gaming room. A loft bed is significantly higher than a standard bed and may accommodate a workstation underneath it.
Professional gaming bedroom concept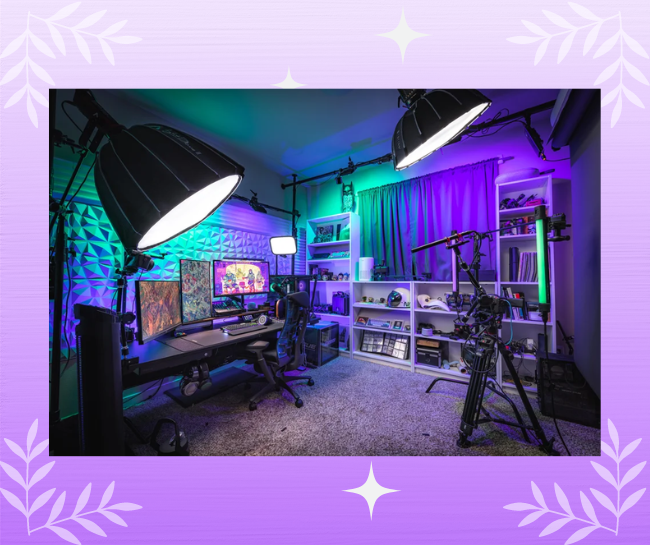 If you have a considerable budget for your gaming bedroom arrangement, consider adding a few studio lights, soundproof walls, high-quality microphones, and a massive triple monitor display. You'll be ready to broadcast effectively in no time with this kind of video gaming room. 
Plant paradise gaming bedroom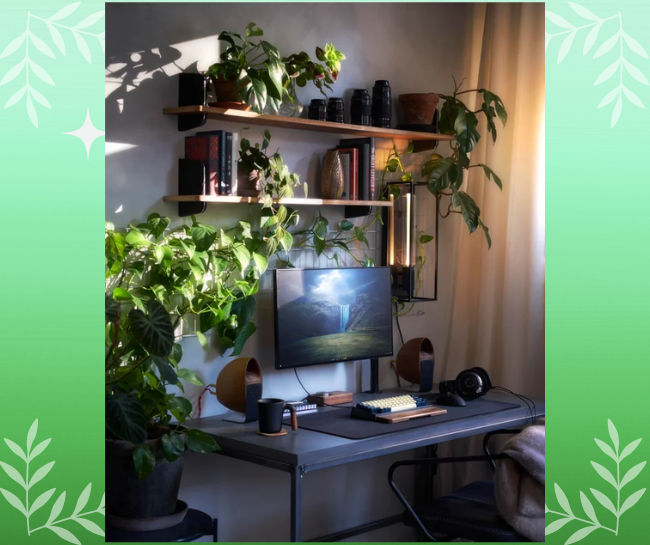 It's also a good idea to decorate a gaming bedroom with plants. Add some trays or pots with green plants to connect with nature.
Hero Characters Gaming Bedroom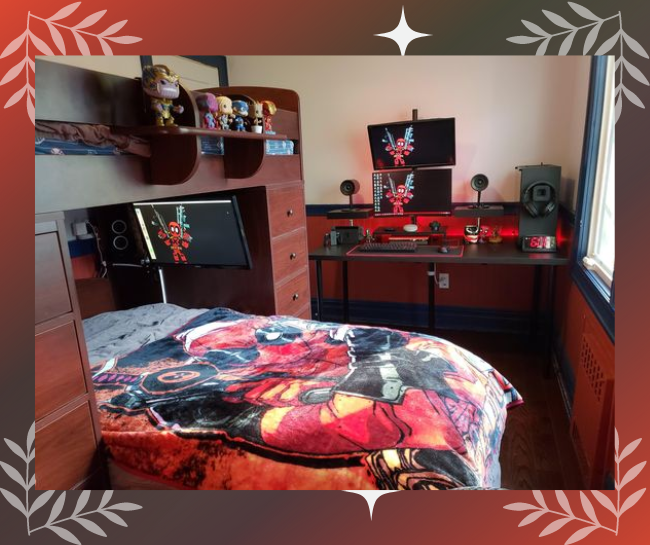 If you take inspiration from one of the action figures like Batman, you may sometimes encounter special gameplay moments. This gaming bedroom idea is crammed with boxes containing action figures, headsets, and beloved video games. Also, the wall decor brightens up the gaming area.
Wolf gaming bedroom concept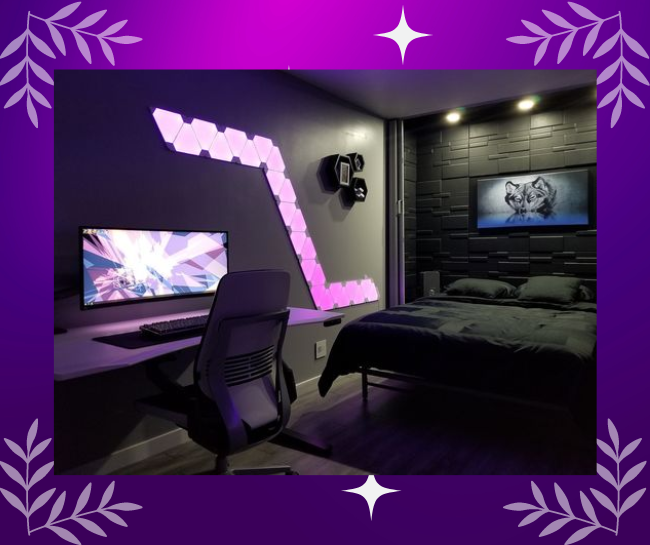 Any gaming setup can seem impressive with the proper lighting and wolves' art walls. This bedroom's gloomy walls make it seem interesting. Also, a massive structure of purple bee LED lights highlights the walls.
Multiple screen gaming bedroom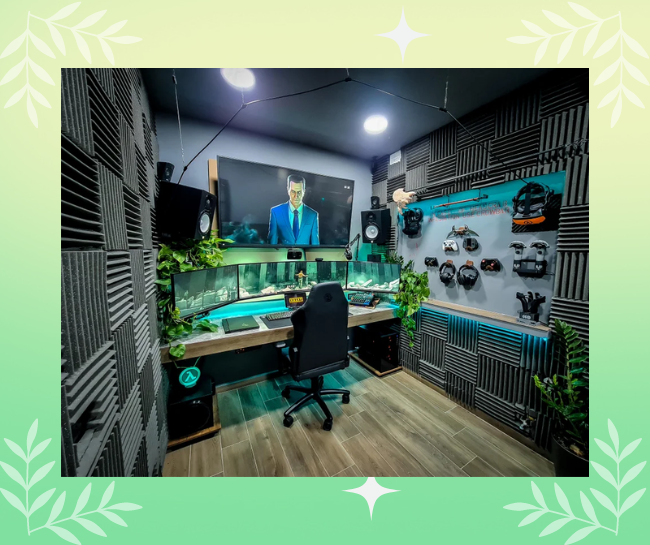 A triple monitor video gaming room is ideal for the devoted player seeking a fully immersive experience. Also, if you're crazy about achieving the best gaming bedroom sound experience for the session or streaming recordings, then building a wall of acoustic foam is a terrific method to enhance the sound coming out of your speakers.
Lively gaming bedroom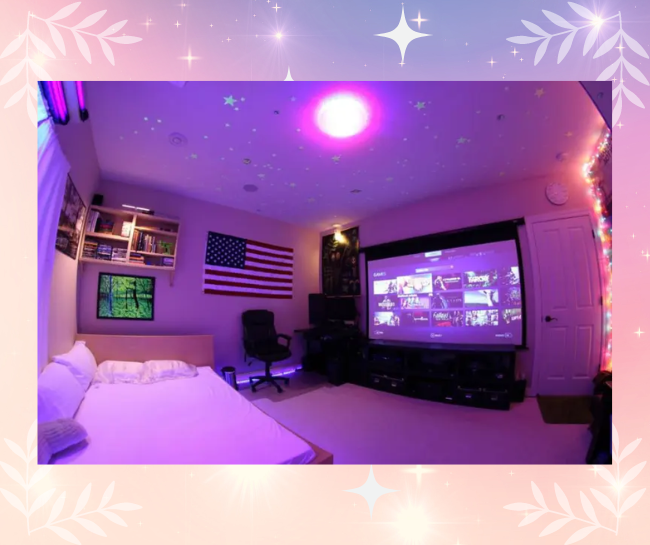 Despite its modest size, this gaming bedroom with a wall painting that wraps around the hard disks on the wall seems cool. The room is so attractively furnished that it can encourage all participants while playing. Furthermore, even though the area only has one flat-screen television, the gaming room stays lively.
Retro futuristic gaming bedroom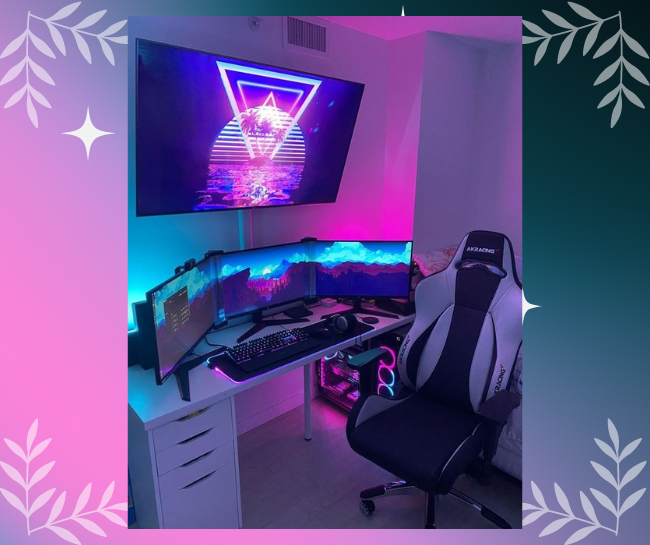 This gaming bedroom idea seems like a vintage future mix, thanks to the fantastic neon lighting and cascading wallpapers on the displays.
Gaming room with hexagon lights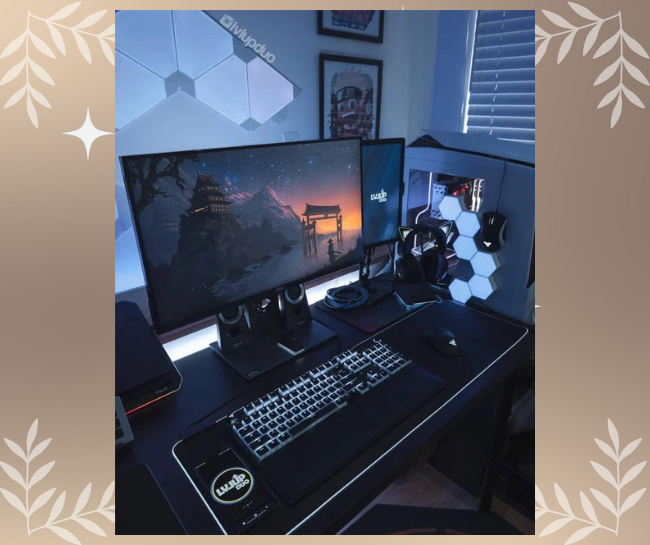 Hexagon lights are an eye-catching addition to any gaming setup. You may make a nice video gaming room by concentrating on the correct color tones, such as ocean blue. Also, put extra wall art to recognize your favorite games and movies.
Home workspace/Gaming bedroom concept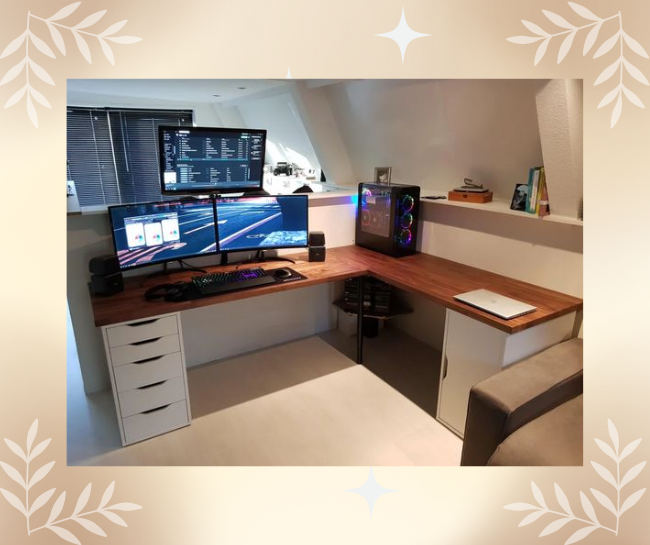 A gaming bedroom may also be utilized as a workspace. A bigger desk is the ideal solution for this. This provides space for both gaming and work-related equipment. A large desk may easily support numerous screen monitors.
Masculine gaming bedroom concept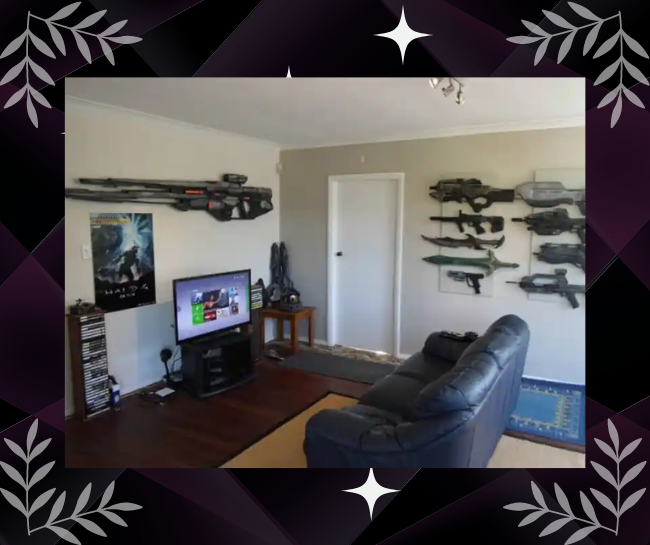 Painting a gaming bedroom in a gentle grey tone makes it more relaxing and pleasant. The decor seems basic and familiar, with one flat-screen television and a luxurious leather sofa.
Fight like your favorite hero gaming bedroom theme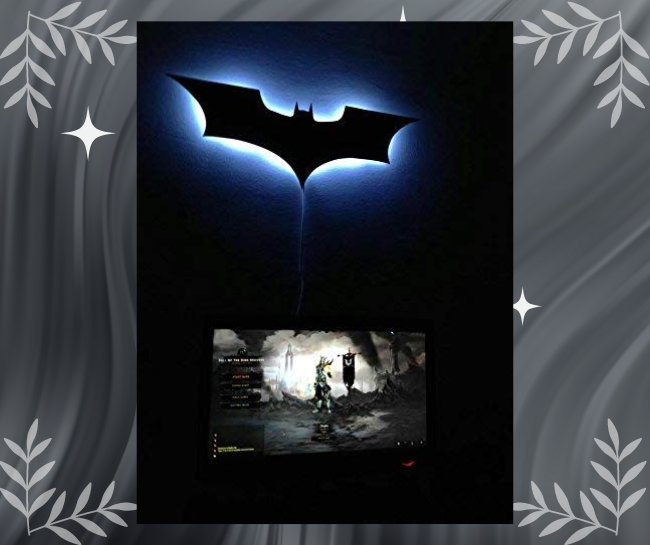 This gaming area idea is appealing because of the superhero posters you may put on the wall. The decoration seems to be affordable yet inventive enough to lift your spirits. Also, you may be encouraged to fight for your defense and win fights by using the posters.
Gaming bedroom with stripes colors
Stripes seem to be a usual motif for a gaming area, frequently associated with neutral colors and primary hues. With a sectional couch set, an ottoman made of striped textiles, a flat-screen television, and a one-of-a-kind cabinet with vivid geometric patterns, you can enjoy your gaming session every day.
Natural and minimalist gaming bedroom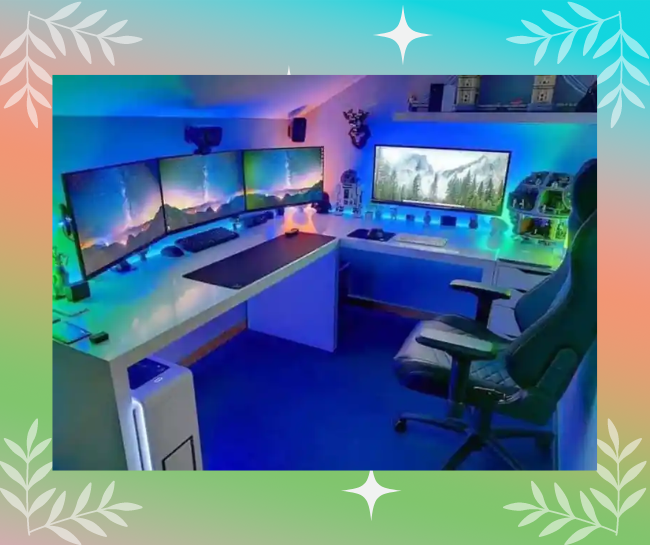 The core of this gaming bedroom idea is a sectional and minimalist desk. It has closed drawers arranged vertically. The desk's top has four flat screens; three of them are seamlessly linked to one another. Moreover, turn off or adjust the lights to a low level to create a dramatic atmosphere while gaming.
Gaming bedroom with a collectible spotlight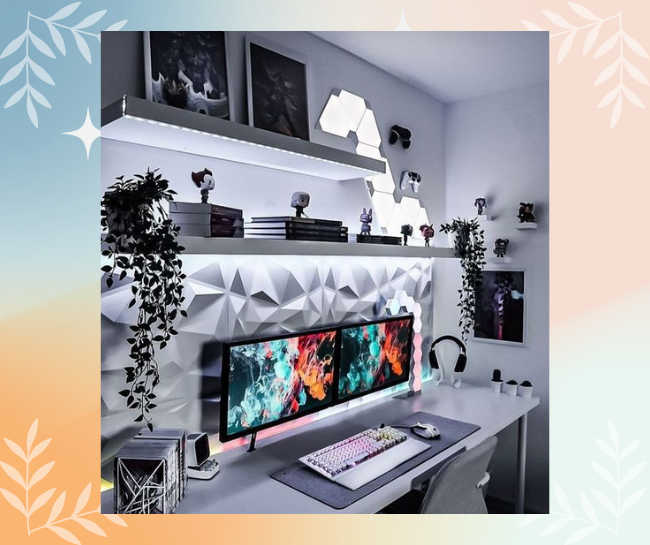 Show off your sense of humor in your gaming area. The concept combines your macho and charming characteristics. It fills the room's wall with graded open storage. Also, cute dolls are displayed in the storage, contrasting with the desk's CPU and monitors. With the table and locked drawers, the space's overall design seems basic.
Relaxing gaming bedroom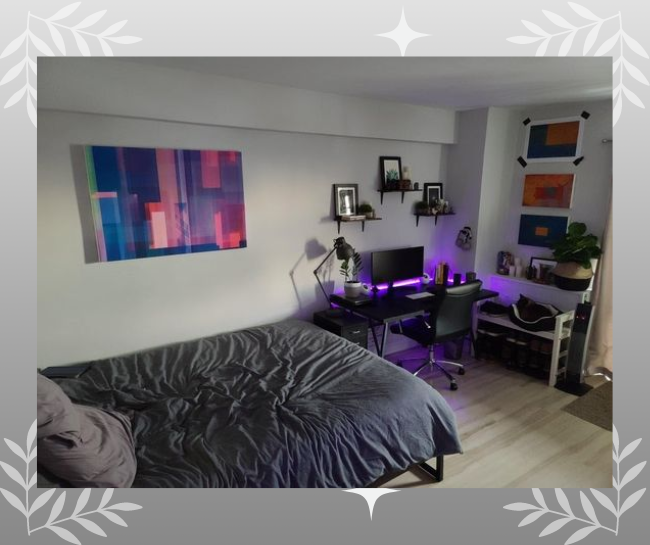 Another possibility is to have a gaming area that simultaneously serves as a bedroom. This one uses the red sofa and lovely curtains, surrounded by gamebooks, posters, toys, and other items. The gaming area seems to be attractive and comfy.
Cinematic bedroom gaming idea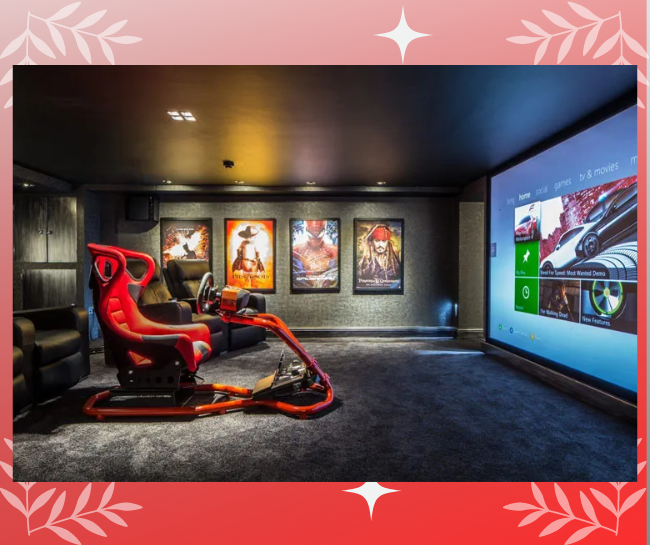 This idea is a movie-inspired bedroom gaming space. This one seems lavish and capable of channeling your savagery while gaming. It chooses a gloomy ambiance and hangs several movie posters on the wall. Moreover, the room is well worth it if you're a genuine gamer.
Sporty wall gaming bedroom concept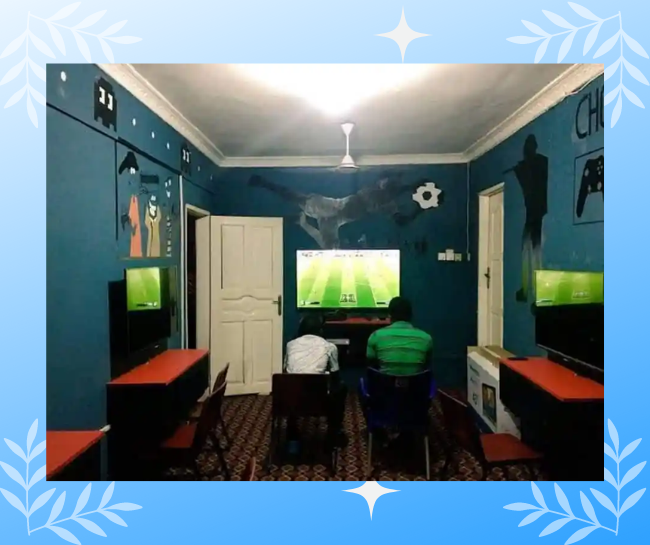 Aside from superheroes, you might find inspiration in your favorite football players. This gaming area idea has several football players painted on the wall. Thus, the wall painting is sufficient to make the place colorful and athletic.
Wood flooring gaming bedroom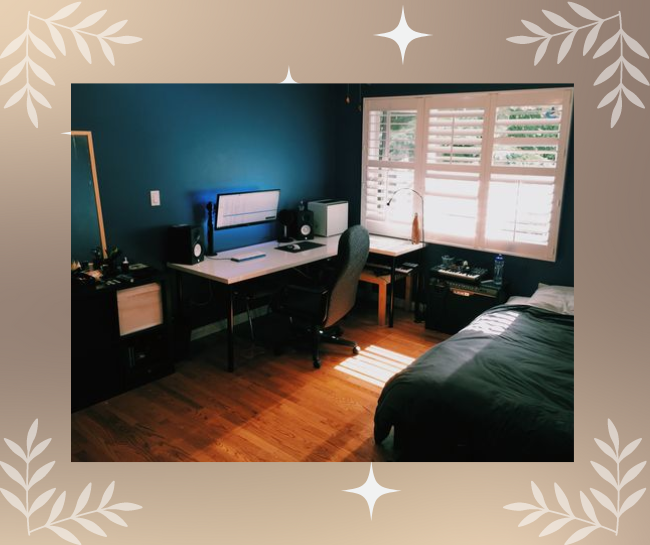 The abundance of weapon toys around the game area and the gaming room's wood flooring allow for a large number of gamers. Also, there is a little storage area where you may save your favorite games, CDs, or films. 
💡Game rooms are highly advantageous because they add required entertainment area. Whether you're entertaining your family, your friends, or your children's pals, a gaming room is a fantastic location for offering healthy fun for everyone.
If you like gaming, designing your gaming bedroom on your own enhances the whole experience. Considering the lists of bedroom gaming setup ideas for small rooms mentioned above, your gaming room will become your new favorite hangout with the correct furnishings, computers, accessories, and high-tech surroundings.
It is really challenging to bring up a child in a home with only one bedroom. If you only have one bedroom in your apartment and you have a baby, read this blog: Raising A Baby In A One Bedroom Apartment