Ever since a global pandemic was announced during the year 2020, many companies were seen offering Work from Home jobs for people to pursue. US, UK, Finland, Canada, and highly developed nations have Fortune 500 companies that promote men and women to work from home. 
The trend in fact has gathered a greater momentum in today's era as compared to office goers a decade back. Work-From-Home jobs are gathering a higher momentum even amongst job portals. Hence, people are looking for ways and means of converting their living rooms into office spaces. This online guide on small-apartment ideas with living room offices can provide you with detailed guidelines or tips on how you can convert your home spaces into office cubicles.
How do you set up an office in a small living room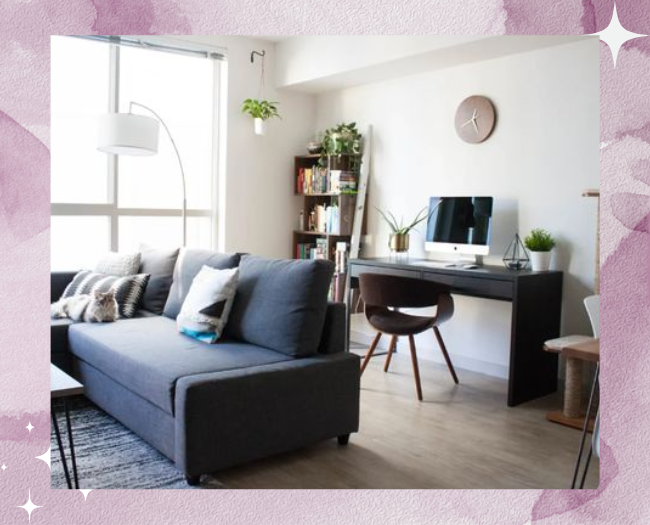 If you do not have a dedicated space in your house for setting up an office, you can use your living room. You will, however, need to be a little creative to make this work because you can't simply put a desk in the middle of your living room and start working. You will need to create a specific office space within the living room in order to keep the room tidy as well as to help you focus on your work.
Here are a few tips to help you furnish your apartment home's living area with a well-to-do office space.
Getting closer to light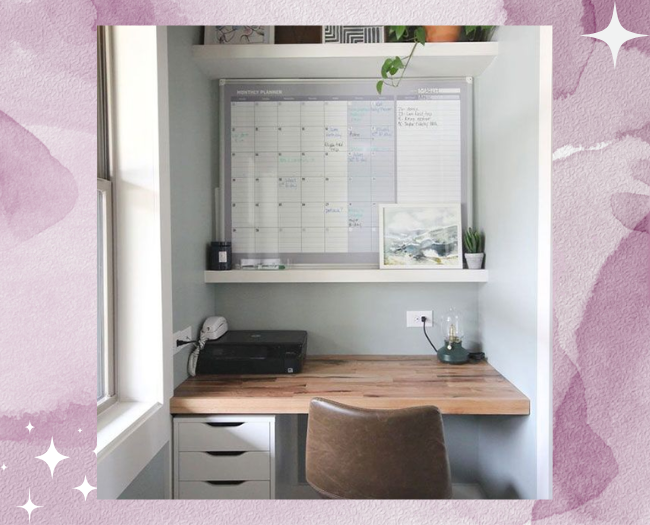 For you to perform office-related tasks in a streamlined manner, you must find yourself an apt corner to cuddle yourself in. Get to a corner wherein there is ample light and ventilation. You can set up your office space at the bay end of your living room wherein you may have windows or open-spaced verandahs. 
💡For a breezy and cool atmosphere, you can keep the windows or verandahs open while you start your work. A cool and serene atmosphere can add up to a soothing soul and a clutter-free mind. 
Create a functional area to get started off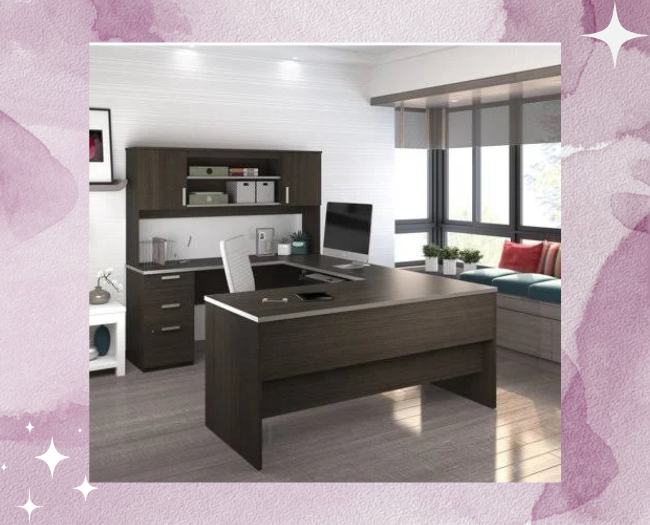 This is going to be a one-time investment after all. Investing in office decor and supplies makes ideal sense as you must create an apt functional space after all. A computer table and an office chair are something you cannot do without. 
Hence, you must invest in posh office furniture to create the perfect office space cubicle you are ideally looking at. You must work for 7-8 hours a day. Hence a comfortable office chair, desk, and table is something you need to get for yourself. 
Look at finer details too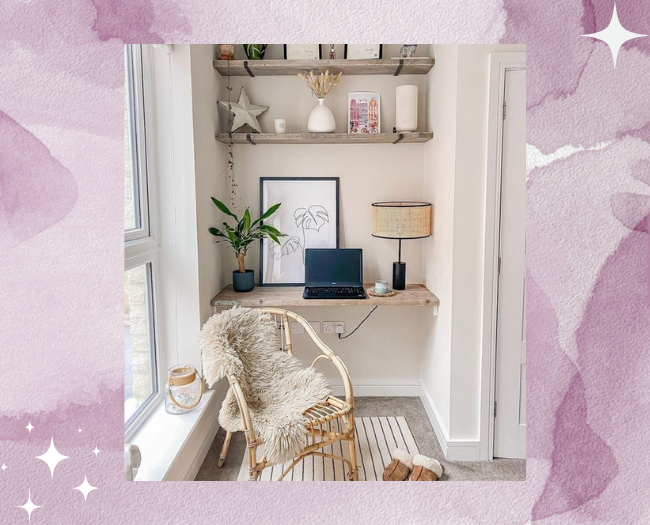 In order to make yourself comfortable at home while working too, you can add a few more items to the list. You can get yourself comfy pillows for a back-rest. Keep a water bottle and packed lunch so that you do not have to shuttle between your work and kitchen. You can add potted plants or decorative plants to add a soothing feel while you work. 
Finish up your household work in advance
Ask the courier guys to pop in before you start your work. Finish up the daily chores like cooking or laundry before you punch into your webcam. You can request your husband or in-laws to send the kids to school or board them in their respective school vans. This way, you can plan clutter-free work during office hours.
How can I hide my office in my living room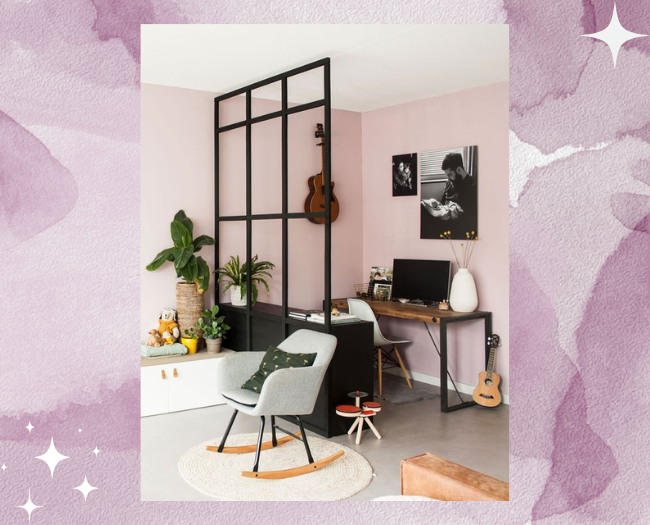 In case you do not want your kids or people at home to get a sneak peek into your workspace, this is something you can ideally do.
You can create a small make-shift partitioning door between the actual living area or drawing room and your make-shift office space. Always use a Windows saver so that you keep confidential data or encrypted files of your office well-protected. 
At the same time, you can also add a curtain blinder so that you are able to hide your office space from the living room area. Keeping your office cubicle hidden adds to a more professional style of working. It is never a wise idea to mix your personal life with that of your professional life.
What is a Murphy Desk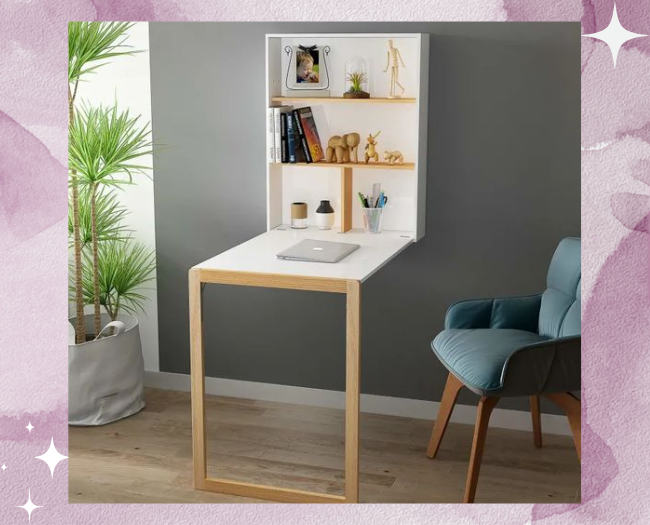 A Murphy desk is pull-down or a foldable desk that can be folded once you are done with your office work. This way, you create a dedicated work-space area away from the interference of your home front. You can also get yourself murphy desks or foldable tables in your smaller-spaced living room apartments. This way, you keep your work area at bay while also not losing out on the household front.
💡Murphy desks are great for anyone who require a little work space but don't want a full-size desk. This wall-mounted workstation folds out to fit a laptop, tablet, documents, etc.
Conclusion
To sum up, quite a lot of small apartment ideas with living room office decor have been discussed at length. Practical tips or ideas, on how to execute the same have also been detailed in this particular online guide.
Don't forget to share your thoughts and read one of our blogs: Ways to Make Your Home Office More Zen and Productive