A studio apartment is ideal since it provides a modest living area at a low cost. The main drawback is that there is only one room. This may be fine for some individuals, but if you have a roommate or if you prefer a little privacy in your living room, bedroom, workstation, or eating area, you'll have to know how to split a room. Luckily, various affordable methods are available to split space in a studio apartment. And the way you want your apartment to look determines what things and design you'll use. Check this article out to learn how to divide a small bedroom into two rooms.
How to divide a small bedroom into two rooms
There's always a way if you want to divide your room─ the only concern is how to divide a small bedroom into two rooms. Check below to determine what suits your taste in styling a space you want to divide.
Wooden shelves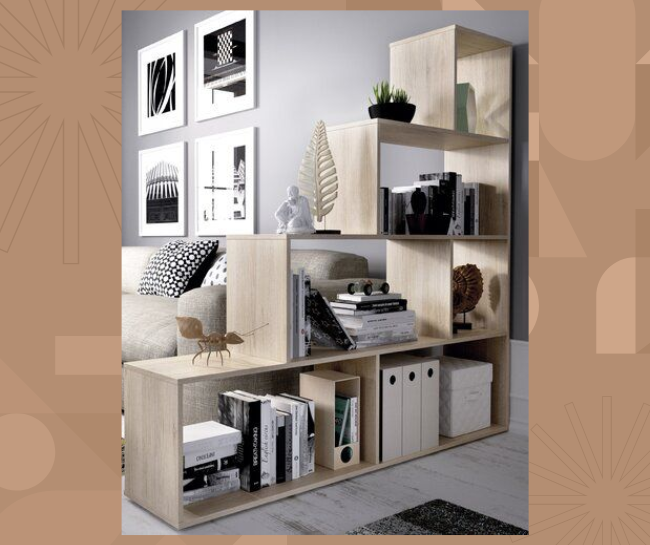 A simple wooden shelf makes a lovely room divider in a studio apartment. You may use the area for ornamental things, plants, or shelving.
💡Shelving made of wood can be regarded a classic. High-quality wood can be used to make it, and it's really durable, stylish, and sturdy looking.
Folding screens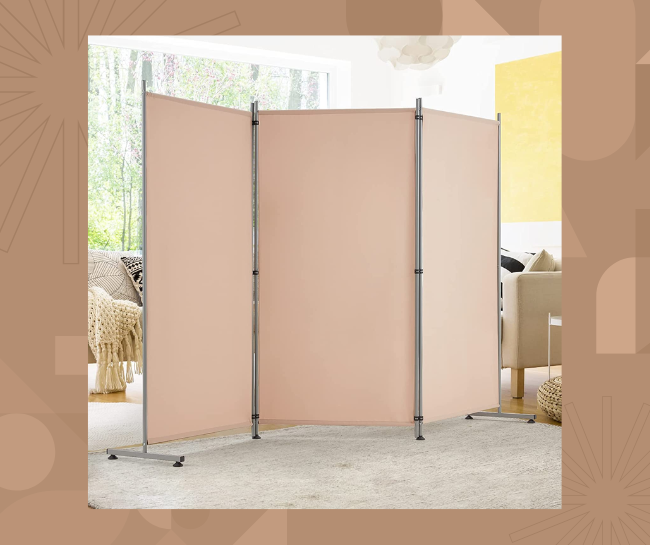 Lightweight folding screens are an excellent way to divide a small bedroom like in apartment rentals. You may also paint them to express your artistic side. Folding screens are inexpensive and widely available at home renovation shops. They provide privacy and can easily be lifted and lowered when you need more room.
Plastic crate storage room divider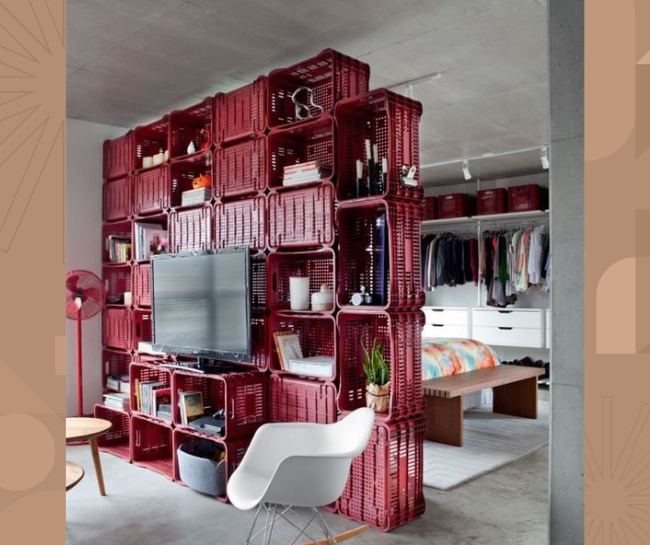 These contain complex carvings that are simple to raise, replace, and add to the elegance of your decoration. Furthermore, some individuals want to take their DIY efforts to the next level, which is one such endeavor. The appeal of this divider is that it provides plenty of extra storage while still providing privacy and solitude.
Blinds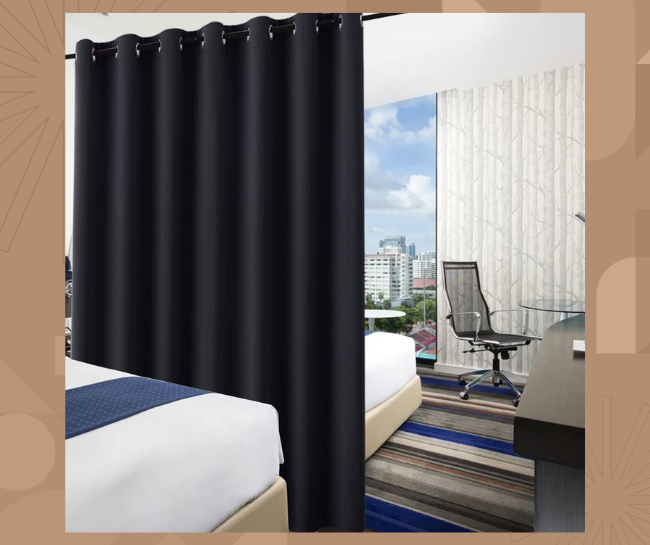 Interior blinds, like drapes, are a simple way to partition space and provide privacy. Blinds are simpler to wash, and you can now purchase them in sections of varied thicknesses. To fit them, you had to install some materials just like in curtains.
Bookcases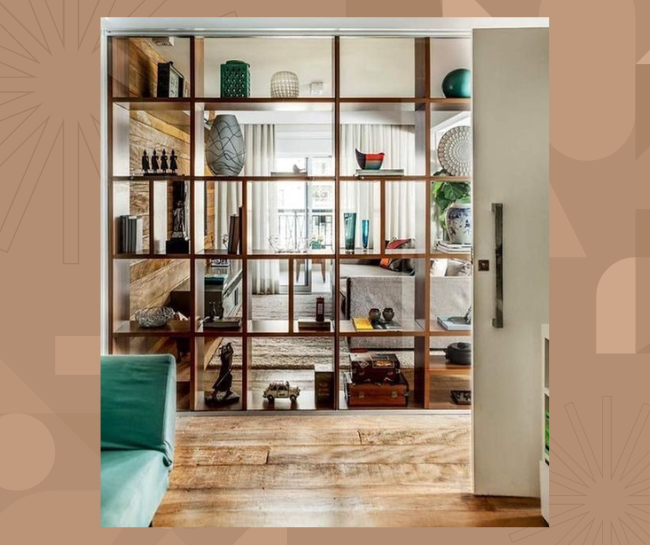 This is an excellent idea for book enthusiasts. If you have a lot of books, install a bookshelf and shelve them to provide privacy while also maximizing space. This room divider concept is particularly suitable for students that live in apartments.
Plants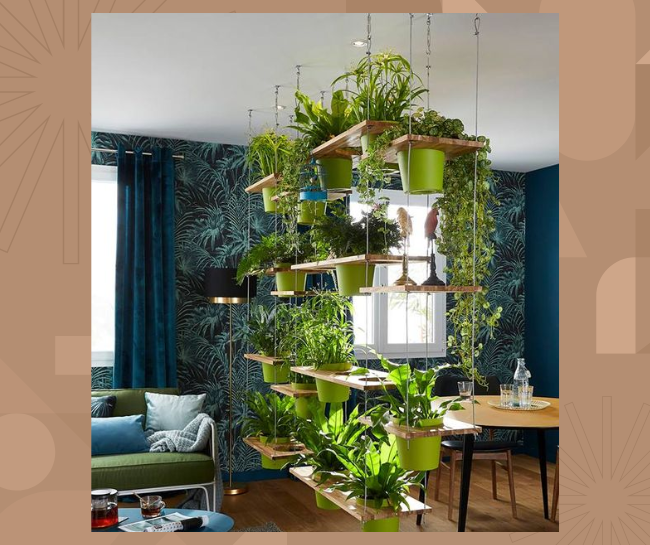 Plants may be used to improve your surroundings, provide space, and split your living area into two sections. A shelf will be required to raise the planters to the necessary height. Moreover, this is a low-cost method of separating a room.
Wooden partition for display boxes and storage drawer dividers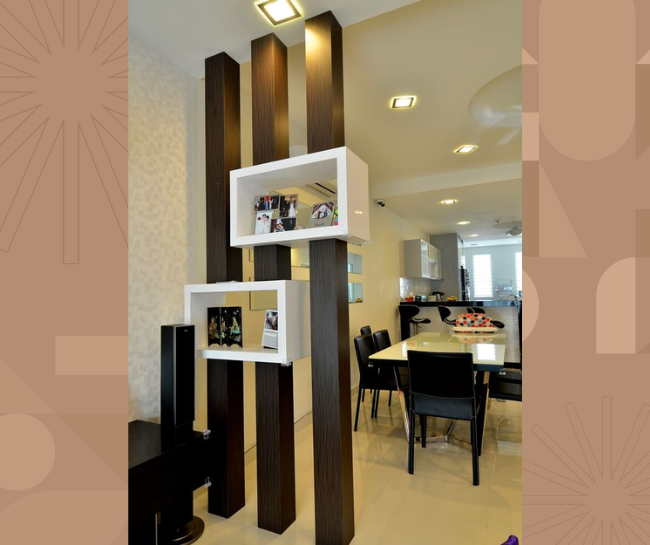 This would have to be ordered from a furniture retailer. The wooden partition for display boxes and storage drawer dividers looks fantastic inside. Just be cautious since this is a more current and contemporary design. It is incompatible with any other design scheme.
Decorative glass room divider with rose pattern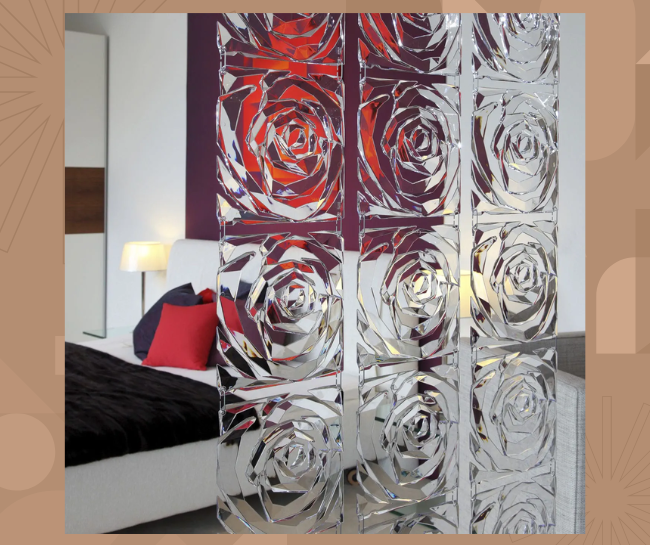 Whenever it relates to glass, there are several alternatives. You may go trendy or traditional with some rose designs, or you can go both ways. It all depends on what you want and how many rooms you want to divide.
The use of room dividers, which may also serve the dual purpose of enhancing the aesthetic of a room, is an excellent approach to divide up a space.
Screens with laser cutting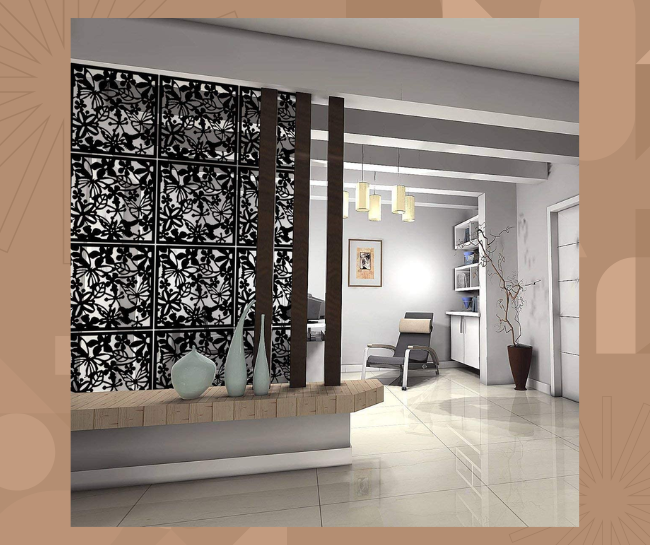 This one can be a little more expensive because you will have to locate a studio to produce them. But they look great, and you will have a one-of-a-kind item in your house. It fits perfectly with the decor. These may not provide seclusion, but they do substantially improve your décoration.
💡 Some houses utilize a room divider as a decorative focal point, while others use it to separate the space more effectively.
How do you split a shared room
Sharing a room, whether a children's room or a university dorm room, maybe a wonderful experience. Once the tenants get acclimated to each other's quirks, they may learn to collaborate and create strong friendships. However, many shared bedroom owners prefer to divide their rooms so they may have their desired privacy while still feeling close to one another. Here are some ideas for splitting a shared space.
Furniture
A tiny room could be spacious enough to accommodate two beds against a small wall and separated by a shelf unit. Furniture shelves provide ample space to move goods in and out of the room and get in and out of bed. In dividing beds, you can use an open shelf unit if the room is small and two shelf units if there is enough room. Moreover, cabinets provide storage space while providing the room's inhabitants with much-needed privacy.
Curtains
Install a curtain to split a tiny room if it is genuinely small. You can add it in an elastic way, obtainable in 5-foot pieces, to completely divide one space from the other. Furthermore, dark-colored curtains may provide seclusion, while curtains with bright colors or dramatic patterns can provide visual appeal. The latter is particularly handy in a typical dormitory or studio rental.
Paint
Give an impression of two areas inside one by using paints. Make minor distinctions by painting two headboards in various colors for every individual to place their bed across. Moreover, paints create dramatic distinctions within a space. Enable each person to choose a color scheme. For a unified effect, choose complementary colors from the color wheel.
Half-Wall
A personalized half-wall that may be as basic or as spectacular as you desire might enhance small spaces. Construct a half-wall out of a standard two-by-four frame and drywall. To establish discrete nooks, simple half-walls may be ornamented with two different wall paints or two distinct wallpaper designs on either side of the wall. For additional hanging shelves, put a row of hooks at the top of the wall.
Is there a cheapest method of dividing a room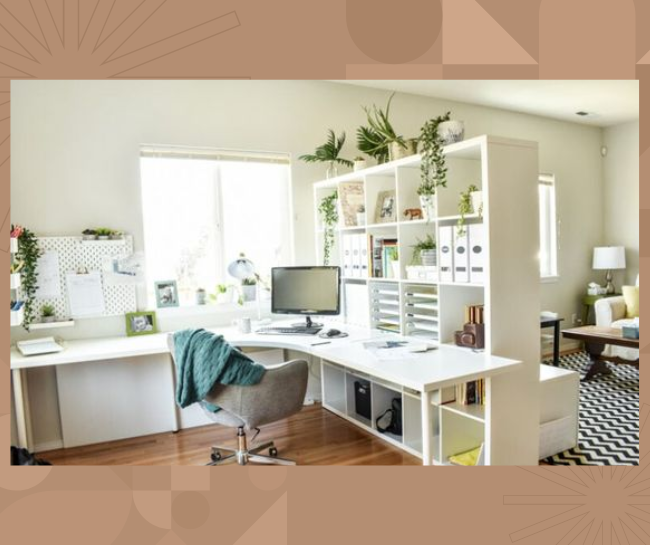 Do you have a limited budget but want to divide a room? Don't worry; there are many DIY crafts and indigenous items you may utilize to decorate and beautify a place. Bamboos, ropes, threads, a DIY clothing rack, and other materials may be used. This method can save you money while providing strong, beautiful house dividers.
Gorgeous vines
If you utilize a room divider, separating a room into two halves is a breeze. And it is a great idea to run vines up a coat hook to make a simple room divider. Having vines also gives a natural element to your area.
A rope net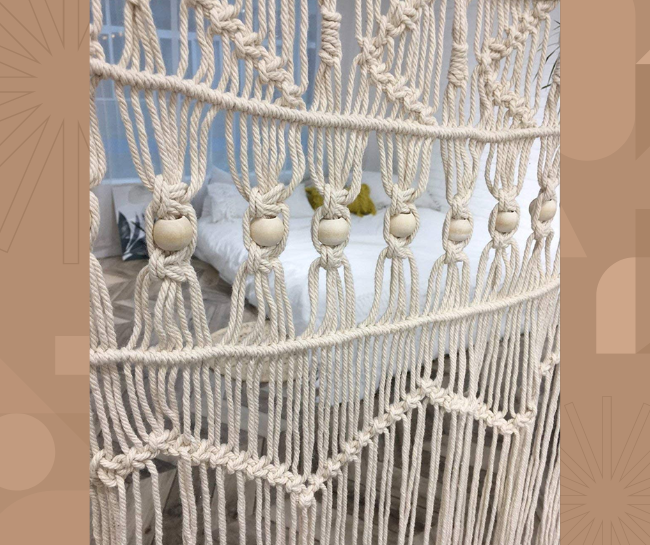 Hook nails into two wooden planks, then thread a yarn string or a length of rope across them. You may make an entire net or webbing of rope to use as a room separation. Adding this to your house will undoubtedly give both spaces a feeling of originality and creativity.
Strands of fabric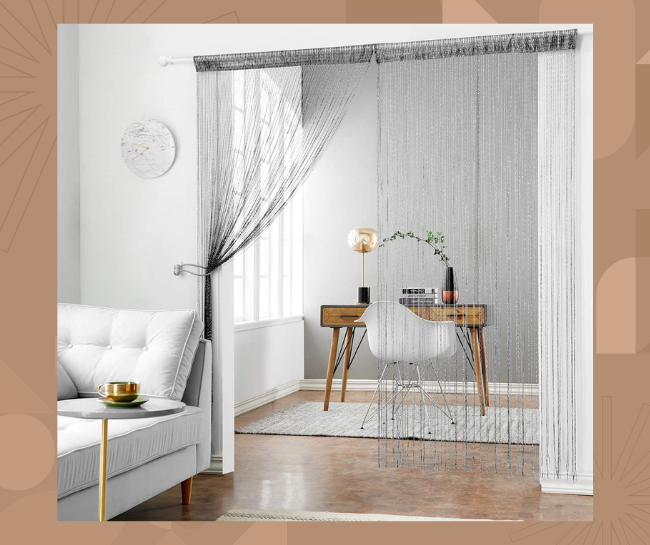 To split an area into two, attach strands of cloth to a pole or curtain rod. You may also choose any fabric color to make a colorful and lively curtain. Moreover, the cloth strands will form an ideal curtain for dividing a room into two.
Do you have a studio apartment and want to separate your kitchen and living room? Read one of our blogs: How To Separate Kitchen And Living Room In Studio Apartment