Moving out of your parent's home into your first college apartment is a major step that can be both exhilarating and frightening. While some people do, you probably do not necessarily have to purchase new clothing, footwear, or accessories for college. However, it would help if you considered buying goods like kitchen wares and a bed. Making a list of your needs can help you concentrate on your buying endeavors and prioritize the important stuff you should purchase.
Moreover, you do not have to buy everything in your first move all at once. Buy products in installments to save money and look for additional cheap pieces from online, thrift stores, or local garage sales. Check out this complete list of things you need for a kitchen and living room apartment college move that's both easy and convenient.
What do I need for first college apartment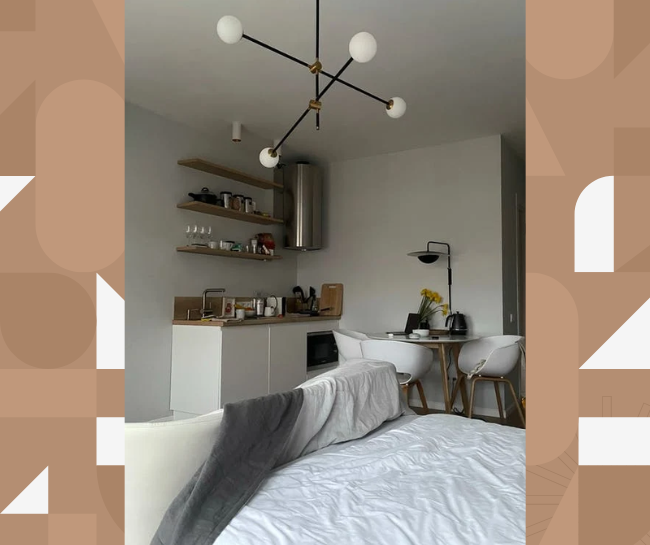 Moving into your first college apartment might excite you with freedom and independence while giving you chills, thinking that you are all by yourself now at the start of your move-in. Regardless of where you live, house necessities are the most important thing you should think of for a comfortable college apartment. The following is a full list of things you need for a kitchen and living room apartment college.
Bedroom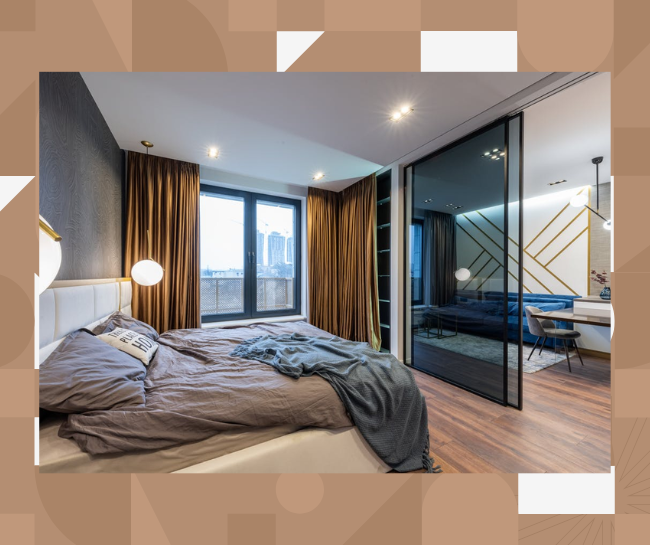 The place where you will spend most of your days should get the greatest attention. Make sure to fix first your apartment bedroom. Getting your bedding and mattress ready on day one is the most important thing on your checklist since the last thing you will like to do after relocation day is sleep on the floor.
You can take your mattress with you on moving-in day. If not, arrange your purchase beforehand and mail it, so it's prepared for you when you arrive at the apartment. If the mattress comes early than your move-in date, notify your landlady, and they will keep the shipment for you.
Bedding and mattress
Blankets
Comforter or bedspread
Pillowcases
Bed pillows
Sheets
Bed frame
Mattress
Bedroom furniture
Other bedroom necessities
Window Curtains or Blinds
Desk lamp
Mirror
Shoe rack
Hangers
Trash bin
Containers or storage boxes
Space heater
Fan
Bathroom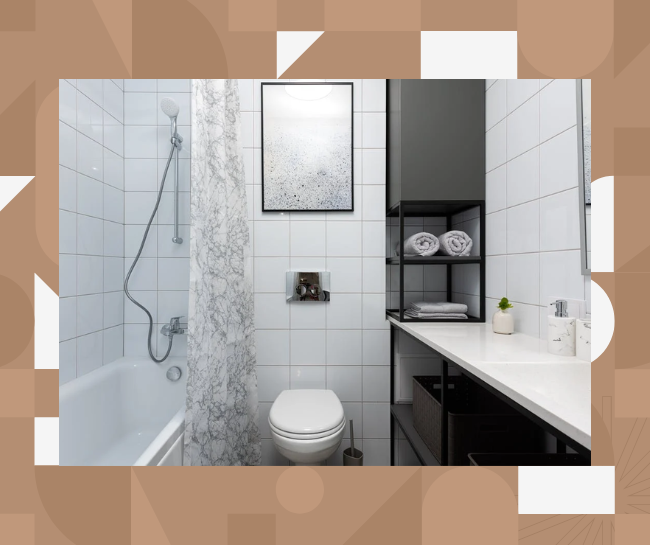 When setting up your bathroom, keep the necessities in mind. Bathroom curtains, toilet rolls, and cleaning materials are easy to forget. After a long day of unpacking, you would not like to discover that you can't take a bath in your new bathroom. Before you start decorating your bathroom, make sure it is practical. 
When you are set to design, make it simple by matching all of your bathroom décors. Shower curtains, bath mats, and towels are simple to coordinate to create the perfect first apartment bathroom look. You may later add minor things to make it seem more like home.
When organizing your belongings, put your toiletries in a readily accessible location. You will like being able to discover and unload these goods quickly. So, label an open-first box and place them in with other essentials
Bathroom essentials
Bathroom cleaning supplies
Shower cap or hair towel
Small trash bags
Small trash bin
Toiletries
Bath mat or shower mat
Plunger
Hand soap
Toilet paper
Toilet brush
Hand towels
Bath towels
Shower curtain and hooks
💡 After toilet paper, hand soap is your bathroom's most crucial hygiene and germ-killing material.
Additional bathroom necessities
Extra storage
Toothbrush holder
Weight Scale
Potpourri
Febreeze
Candle
Air fresheners
Laundry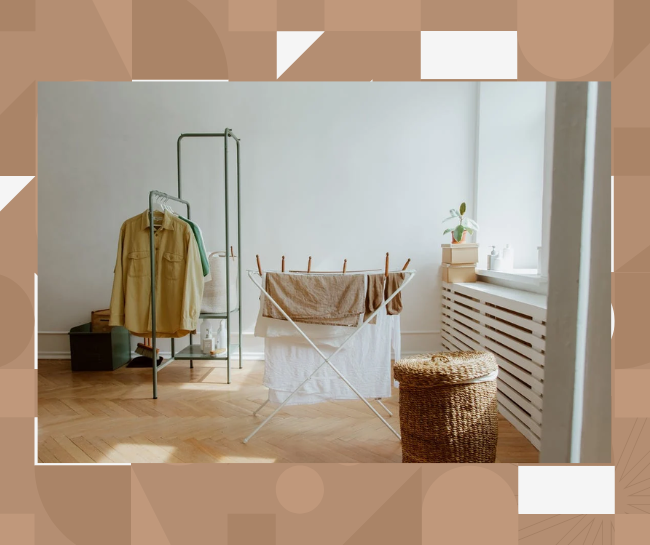 You'll quickly realize that having in-unit washing is one of life's best blessings. If you can discover an apartment with this facility, it's a major plus. Don't worry if you have to go to the washing room. All that you will need are listed below.
Mesh laundry bags
Drying rack
Sewing kit
Stain remover
Ironing board
Iron
Rolls of quarters
Fabric softener sheets
Detergent pods or laundry detergent
Laundry basket
Cleaning & other supplies
If you are vulnerable to stains and spills and want to have your new house ready for emergencies, keep these products on hand.
Cleaning products
Swiffer
Mop
Dustpan
Duster
Broom
Vacuum
Other important supplies
First aid kit
Fire extinguisher
School supplies
Carbon monoxide detector
Air conditioner
What do you need for an apartment kitchen and living room
The kitchen and living room are one of the crucial areas of your space where you spend most of your time. So, as you move in on your college apartment, your necessities in the kitchen and living room are one thing you should never overlook from your full list of things you need for a kitchen and living room apartment college. Look below to know what you need for a convenient and successful living on your own.
Kitchen and dining room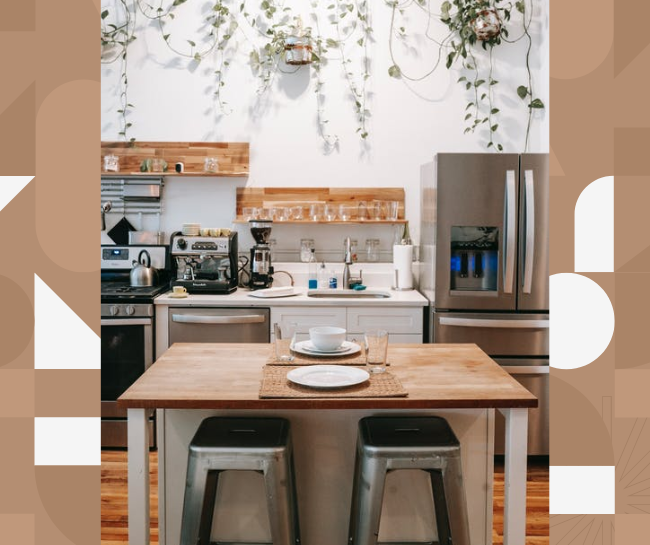 Purchasing everything for your kitchen in your first apartment may shock you. Begin with the simplest necessities, such as your pans, pots, and cooking utensils. Then, add items, such as wine glasses, serving dishes, and kitchen tools. If you do not have a dishwasher, you will require various things for hand cleaning dishes. Moreover, you must determine what to anticipate before you move in. So, whether your apartment already has a dining table or countertops, you'll have to know what to look for while shopping. 
💡 A formal dining table may not be necessary immediately, but it is something to consider in the future. Also, although using plastic utensils and paper plates may be fine initially, attempt to discover full-time substitutes. You will not only save money, but you will also preserve the environment.
Cookware
Wax paper
Plastic wrap
Aluminum foil
Cooking utensil set
Mixing bowls
Cutting boards
Measuring spoons and cups
Baking tray
Dish drying rack
Knife set with chef's knife
Salt and pepper shakers
Pots and pans
Dining and utensils
Food storage containers
Silverware organizer
Silverware set
Placemats
Paper plates
Glasses
Small and large plates
Dining chairs and table
Kitchen appliances
Crockpot
Toaster oven
Coffee maker
Blender
Can opener
Wine opener
Bottle opener
Colander
Kitchen cleaning and extras
Trash bags
Trash can
Ziploc bags
Paper towels and holder
Dishwasher pods
Sponges
Dishtowels
Dish soap
Fruit basket
Chip clips
Living room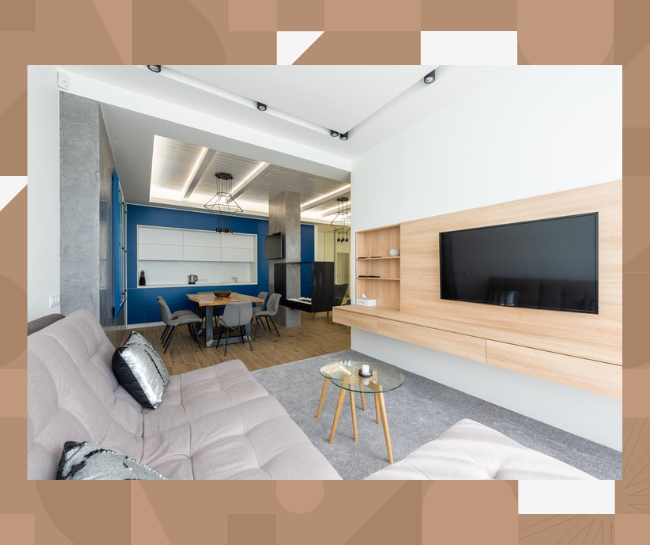 A living room that is both cozy and useful pulls an apartment together for sitting and entertainment. So, if you intend on organizing dinner parties or binge-watching Netflix, you will likely to ensure your first apartment has a friendly and warm atmosphere. Consider a futon or sleeper couch for additional seating if you have a small living room. Establishing a temporary guest bedroom for relatives or friends who are seeing your new apartment is an excellent option.
Furthermore, by adorning it with flora and accessories, put it all to life. The environment is your door regarding wall art and side table. The new dining room tables are lovely, but you will be happy eating at the countertop for the first few evenings. Before indulging in beautiful cushions for your sofa, begin with the standard first apartment requirements for your living room.
Living room furniture
TV stand
End tables
Coffee table
Chairs and additional seating
Couch
💡The single most significant piece of furniture in every living room is the sofa. Couches tend to be the largest and most expensive furniture you will buy, and we all know how important it is to have a pleasant spot to relax our bodies after a hard day.
Living space decor and comfort
Wall hooks
Wall decor
Plants
Coasters
Throw blankets
Throw pillows
Area rug
Entertainment
Speakers
Streaming devices
Television
Conclusion
Most of these goods are probably already in your home. If you don't, purchasing new equipment isn't your only alternative. Look for second-hand furniture and appliances with friends and relatives, or visit your local thrift store.
These are the necessities for a functioning new house, but they are just the beginning. Once you've worked out the fundamentals, it's time to personalize your new apartment. This full list of things you need for a kitchen and living room apartment college, along with all of the apartment necessities, can assist you in making the transition from home to a college apartment an easy and efficient one.
Don't forget to share your thoughts! Thank you 💖