These days, it's unusual to find a bathroom without floating shelves. Floating shelves have made their place in today's bathrooms, living areas, utility rooms, and even kitchens as a decorative element. They're an excellent way to split up a furniture wall, add variety to a blank space, or create a viewing area. However, given the prevalence of floating shelves, there are a few things you should know before attempting to create and design your own. Here's what you need to know about how to decorate bathroom floating shelves:
Choose a traditional design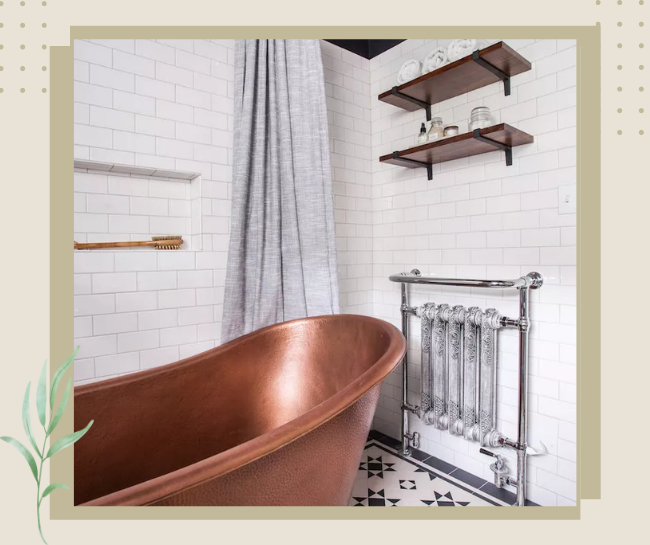 Floating shelves come in a variety of shapes and sizes, but the traditional is always a good choice. This thick dark wood choice is subtle, but it packs a lot in terms of aesthetics. It's a strong option that can store practically anything, from extra hand towels to hefty glass jars containing bath supplies.
Consider monochromatic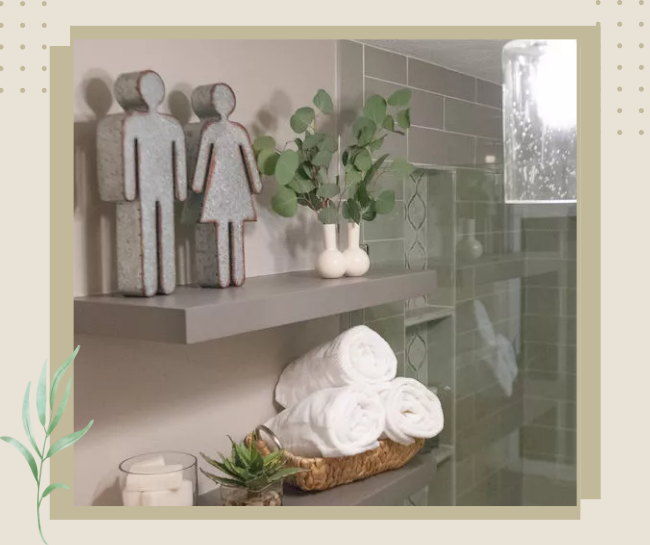 Pick shelves that match the rest of your bathroom if you want to keep the floating shelf concept hidden. Two different shelves in this gray bathroom house decorative things, rolled-up extra towels, and bath supplies. Despite their thick construction, the gray tint lets them blend in, making them the ideal subtle choice.
Keep your belongings safe
The beauty of a conventional floating shelf can't be overstated. However, many people are scared of items falling off the edge and shattering. Choose a floating wicker variety with bars to keep everything in place while also creating a delightful bohemian vibe.
Hide unattractive baskets or boxes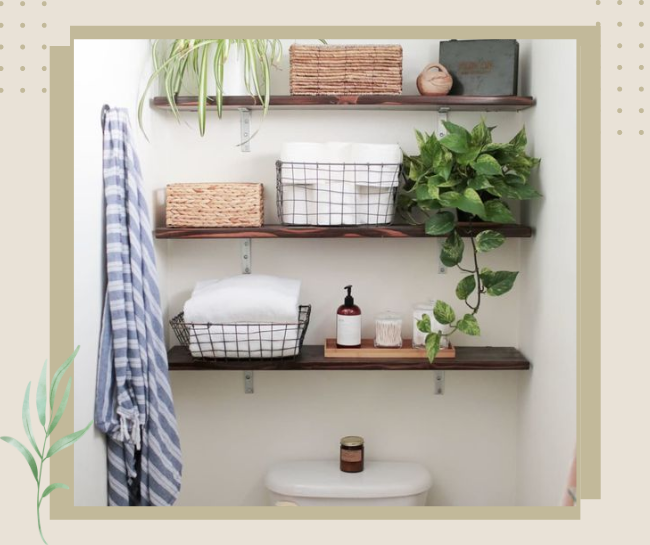 Boxes and baskets can be used to hide and arrange items that don't belong out in the open (toilet paper, tampons, whatever). Make sure to measure the depth of your shelves before you run out and buy every basket you see. You don't want the basket to fall off the shelf's front.
Add towels
To soften the room, add towels or other fluffy objects, regardless of the sort of shelf you employ. Towels, in particular, give off a more spa-like vibe, which many people really like.
What do you put on floating shelves in the bathroom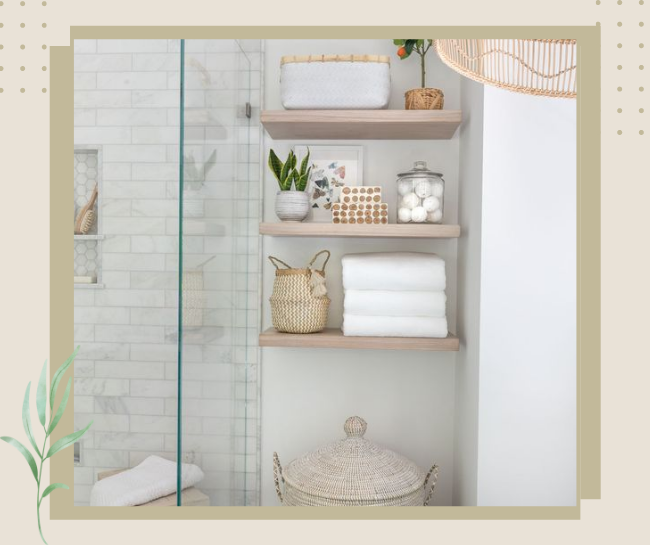 After you've figured out how to decorate bathroom floating shelves, you'll want to figure out what you can place on them. Utilizing floating shelves is a beautiful way to arrange your bathroom accessories while adding a splash of beauty if you have a little more room to work with.
Moreover, stylish storage containers are the place to go if you want to avoid a messy bathroom. You may store towels, toilet paper, air fresheners, and even some plants on floating shelves in your bathroom. However, make sure that you only include items that are both appealing and functional. Hide the ones that aren't interesting, such as those that you haven't used.
💡 The smallest floating shelves can hold up to 25 pounds, while the strongest floating shelves can hold up to 100 pounds.
Things you need to know before installing bathroom floating shelves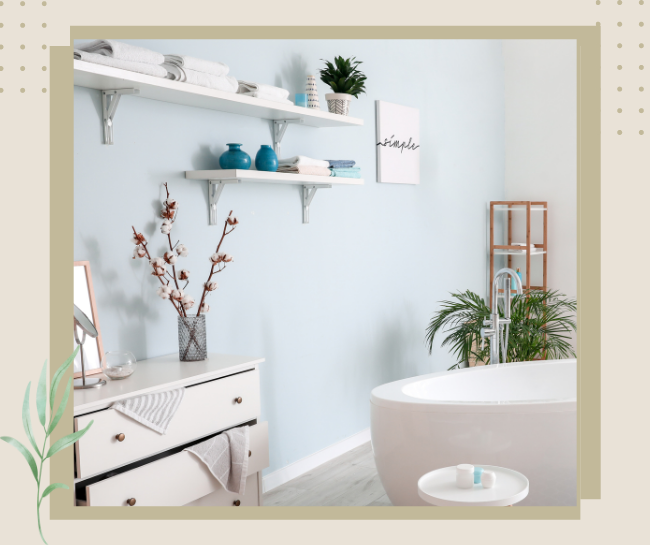 Bathroom floating shelves take a lot of time and effort to construct, particularly if you're a beginner. Follow these guidelines to make installation easier:
Check the wall's construction
Examine the structure of your wall before beginning, just as you would when installing a shelf with brackets. This will define the type of fixing you'll require. Moreover, you'll require wall plugs for a strong brick or stone wall and worm-style drywall anchor screws for plaster or drywall.
Consider putting your shelf into the wall studs
Some sources claim that installing floating shelves without striking the studs is acceptable. That is fine, but it is recommended that you do not do so. If you don't have studs, you'll have to rely on extra support like wall anchors or toggle bolts to keep your heavy-duty shelf in place. This also necessitates drilling larger holes and taking a risk that the bolts will open properly and not damage everything behind the walls, such as cabling or studs.
Mark your fixings
Place the shelf bracket against the wall at the desired height. Make sure it's correct by utilizing a spirit level. Then, with a pencil, mark the locations of the fixing holes. Use a spirit level to double-check that your pencil markings are straight. Create a small hole in the center of each mark with a counterpunch and a mallet to prevent your drill or screw from sliding.
Tie your wall fixings
Depending on the shelf you're using and the wall material you're fastening it to, this step may vary. For instance, if you're mounting your shelf with a drill and wall plugs, drill a hole in the center of every pencil mark, and then press your wall plugs in with a mallet. Moreover, wrap the marks in duck tape to prevent plaster cracking and put in your fixings if you're using drywall anchor plugs.
Attach the bracket in the wall
Now that all of the holes in the wall have been bored, you may screw on the bracket. Hold it in place and, using a drill or a screwdriver, drill or screw in the needed screws, making sure the bracket is tight against the wall.
💡 A floating wooden shelf with a thickness of 2 inches would be ideal. Anything less increases the likelihood that your shelf will snap when loaded with objects.
Advantages of bathroom floating shelves
If you're looking for a way to organize your bathroom, consider installing floating shelves. If properly set up, you will not only keep your belongings appropriately but also in a very attractive and trendy manner. In most bathrooms, space is limited, and shelving is an excellent way to make the most of it.
The following are some of the advantages of having floating shelves in your bathroom:
It adds functionality
Floating shelves may do a lot more than just sit on the wall in clean lines; they can also serve a purpose. Do you, for example, have a convenient spot to store your toilet paper? If not, or if you simply want to show them off, floating shelves are the way to go.
💡 Display your collection by arranging the shelves in an appealing pattern. Moreover, they are less expensive than most nightstands. A well-placed shelf may serve as storage while also allowing you to display your personal style. 
It fills gaps in the corners
Floating shelves can help you make better use of corners, which are often neglected. To be honest, that's the finest method to fill that area and make it appear great. When you're short on room, use these shelves to fill in the gaps without sacrificing valuable space elsewhere. Even extra toilet paper, cleaner detergent, and soap look beautiful when organized on a corner floating shelf in the bathroom.
It can help you get rid of clutter
Clutter is the pinnacle of untidiness. Clutter makes keeping a clean and orderly house impossible. As a result, create some order in your home by putting everything in its proper place. You can organize anything from your shampoos to your toilet paper with a new set of floating shelves. Additionally, when properly installed, they have the added benefit of making your bathroom appear larger.
Do you wanna know how to turn your dresser into a bookshelf? Click here for an easy DIY!
We would love to hear your thoughts! Share it in the comment section below 😇