Studio apartments are a great way to organize your living into a single room that can easily be monitored and maintained. However, the major issue is to transform one single room into an office, kitchen, living room, bedroom, and many more without adding too much clutter. It is essential to think creatively while designing a studio apartment to make it comfortable and stylish.
Clothes, shoes, and accessories form a major chunk of belongings that we keep inside our homes. However, a studio apartment might not allow us to install a full closet for our belongings. This can create further issues with the organization and management of the items and home. Cluttered living is preferred by none; thus, it becomes essential to look out for solutions.
What do you do if your apartment doesn't have a closet
For all of us, having little or no closet space is no less than a nightmare. Lack of space can lead to piles of clothes mounting on your floor or over the bed. And this image of a permanently cluttered room is really scary. To get out of this picture, you need to run your brain cells into finding an innovative and creative solution, helping you carve that little extra clothing space.
You have many options when it comes to finding a solution to your problem, from constructing DIY hanging racks to installing an open closet. So why worry? Check out interesting ideas to solve your closet problem at once.
Studio Apartment Closet Ideas
Walk in closets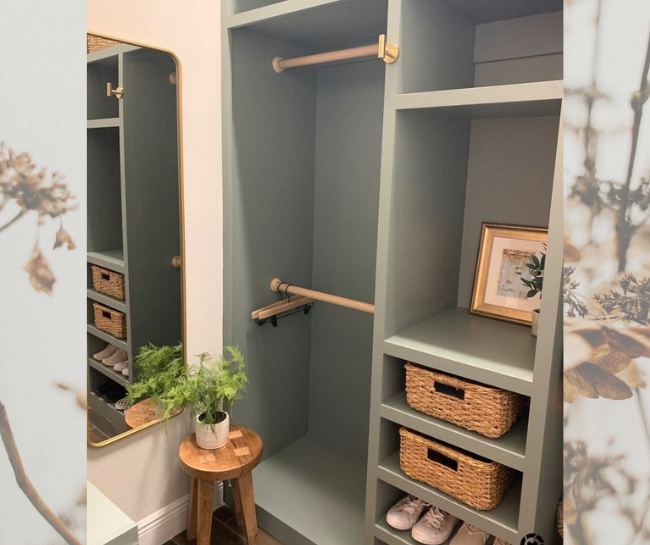 Invention and technology have brought a revolution in the way people organize their lives. Today, people try to maximize the space by using every inch of the footage available. Rather than leaving that empty corner of your room vacant, why not make it into a small walk-in closet where you can keep clothes and shoes?
However, they might not be a budget-friendly solution for all, so a perfect DIY technique will help you run down on cost. Grab your bookshelf and place it in a way that creates that extra lane for your clothes while stocking all your books at the front.
💡 A first wave of popularity for walk-in closets occurred in the 1950s. New York's high-rise buildings have reduced the number of available apartments and increased the number of closets in an effort to reduce the reliance on wardrobes.
Fold up a walk-in wardrobe
How to make a closet in a studio apartment? Consider a fold-out wardrobe that has additional storage in the doors if this is your major concern. The wardrobe transforms into a portable walk-in area where you can easily organize all your belongings when you open it. The mirrors on both sides can help you see your outfit from every angle.
Free-floating shelves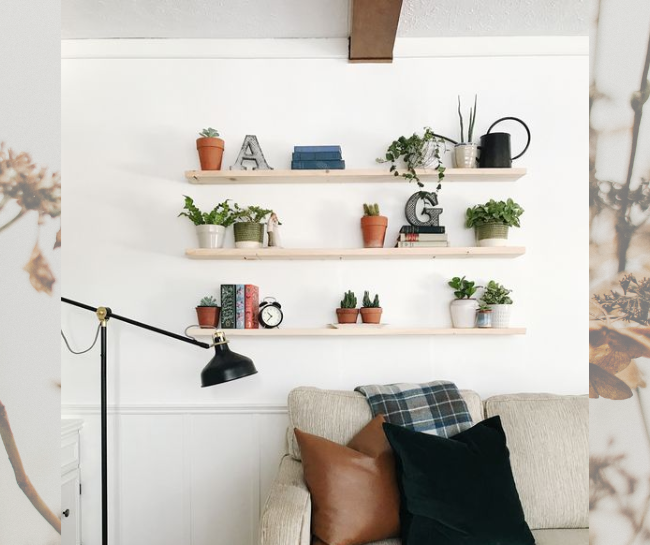 If you are passionate about shopping, especially for shoes and books, then why not décor then by creating a beautiful and elegant-looking vertical floating shelf? Display them around your room like trophies together with sitting drawers to give your room a tidier setup. These free floating shelves are flexible to move and relocate, due to which you can easily shift them as per your preference.
Open closets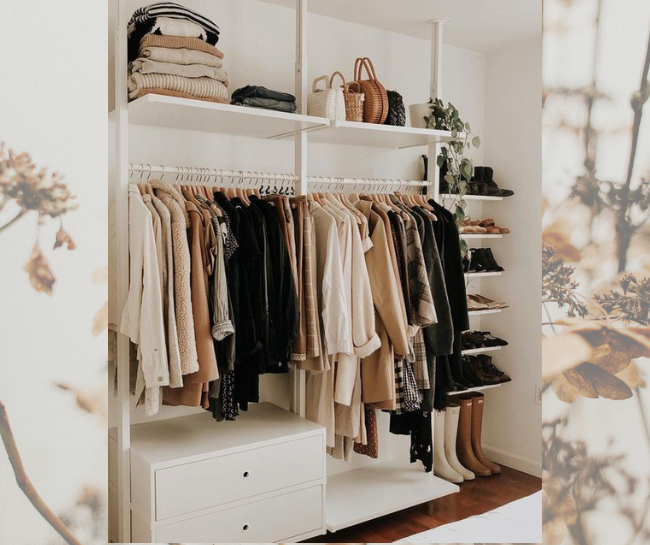 If you are the type of person who hates mounting clothes at one end of the room, then open closets are made for you. Installing shelves and racks on the space over your wall and turning your wall into an open wardrobe can give an aesthetic look to your room. Open closets are a good way to décor your house in a new style while serving as a storage solution.
💡Open closets are in style, which is great news for people with small spaces. These well-organized systems for storing clothes are great for showing off your wardrobe, making your room feel bigger, and getting rid of ugly closet doors.
Underbelly closets (under the bed)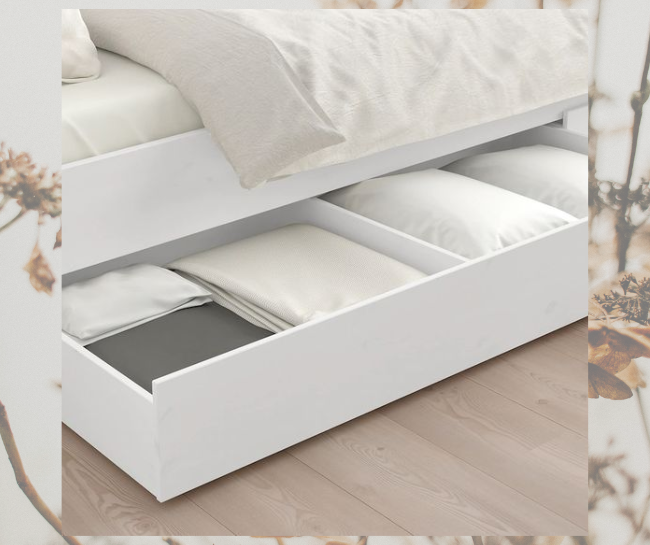 Open closets, not your type? Don't worry. Underbelly storage can help you discover closet space while keeping your preferences alive. Creating a bed with huge pull-out drawers or lift-up sections can help you discover loads of space in one place. You can then easily organize your clothes, accessories, shoes, and many more items in one place. This neat and clean organization will even lend you the required peace and coziness at your studio apartment.
Wall hung cabinets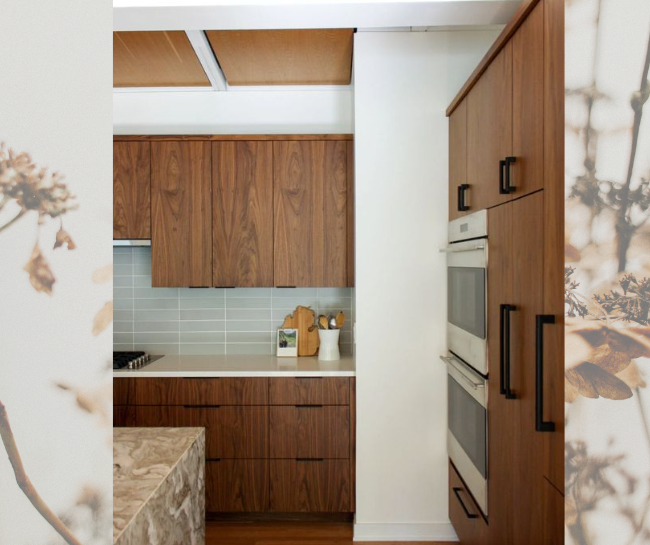 Your kitchen can give your home a perfectly elegant feel. To organize your kitchen space, you can opt for wall-hung cabinetry. This way, you need not worry about how to make a closet in the studio apartment. You can instead build a custom-made walnut cabinet in your kitchen area. And why limit it to the kitchen? You can even add this cabinet to your bedroom and living area, taking advantage of empty walls, thus giving you both space and some visual effects.
💡 Cabinets mounted on the wall are the workhorses of a kitchen or bathroom because they provide much-needed storage space above base cabinets and are easy to reach when standing or moving about.
Conclusion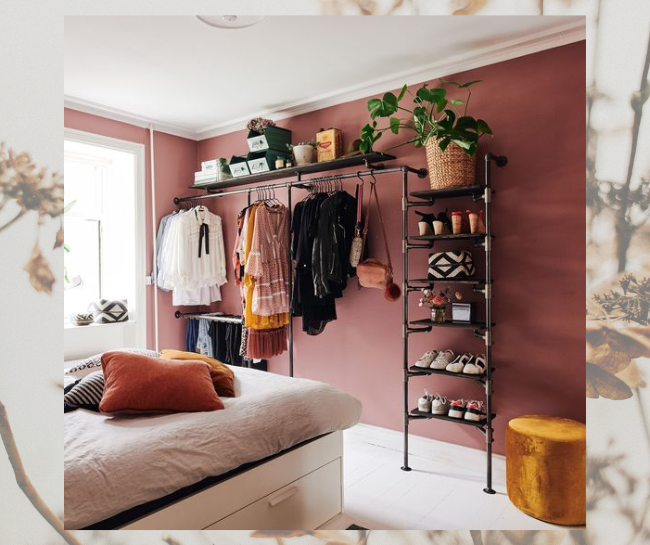 The perfect combination of colors with innovative ideas can help you perfectly design your studio apartment as you want. This will help you keep all the required items without leaving anything aside. Even though a full closet might not fit in your apartment, you don't have to worry about your clothes anymore. There are plenty of ideas to help you design a custom closet that can easily fit into your apartment. Try these tips, and you'll find the perfect place how to store them.
Don't forget to share your thoughts 😘 Leave them in the comment section!