Due to open concept architecture, studio apartments may be challenging to furnish since there are almost no barriers to divide spaces or décor patterns. Moreover, it would help design strategies to get a consistent aesthetic over the whole room. Using rugs is quite pleasant to link areas in your apartment without interfering with the conceptual design. However, the difficult part in doing this is selecting the proper rugs that will suit your apartment's concepts and designs. Here are some ideas for creating your studio apartment seem homier by using coordinating area rugs.
💡 The most expensive rug ever sold is the Sotheby's '17th Century Antique Persian Carpet' which sold for $33 Million.
Rugs for studio apartment
The worst mistake you can make in a studio apartment is treating it as if it were simply one large room. And you would not surely want to purchase a single colossal rug and place it in the middle of the room. Instead, identify certain places in your flat, build imitation corridors and a foyer, use harmonizing textures, and avoid clashing colors.
Here are some tips on how you can further revamp your space with rugs:
Designate your areas
Begin by selecting how to divide your studio apartment's sections, such as the dining, living room, and bedroom. After you've plotted out wherever you want large furniture to put and determine your apartment areas, rugs will help you to separate each of these areas. Put a carpet that fits nicely in each allocated space.
Create mock hallways
If you have a bigger studio apartment, consider runner carpets to guide guests from one room to the next. Runners provide comfort and richness to the surface by giving extra soft layers and tempting guests to explore deeper into the apartment. Moreover, utilize runners to inform folks where they need to go. Since runners are often smaller, this is a great location to experiment with texture.
Make a foyer
If your studio apartment lacks a made-in foyer, make one with a table and entrance mat. Separate this area from the other flat regions with a large plant and use a rug to mark this space as the entrance.
Limit the colors you use
If you opt to use vibrant colors in your rugs, limit them to a minimum in each one. Too much color in a small place may lead to disarray and mess. Moreover, colors in tiny homes are complex on the eyes and make the area seem smaller. On the other hand, neutral and warm hues, including beige and white, give brightness to an apartment and make it appear larger.
Using rugs to define spaces
When appropriately utilized, rugs provide more than simply relaxation and aesthetic appearance. Furthermore, coordinating area rugs may aid in separating one location from another. An open-plan layout may be utilized to divide the entertainment area from the kitchen. Rugs may also be used to aesthetically separate the bedroom into a lounging space or a foyer area in a long corridor, accomplishing all of this without needing a standard room partition.
Moreover, open-plan rooms aren't the only ones that may profit from a well-thought-out rug layout. Smaller areas with no extra furnishings will be more liveable and visually beautiful without requiring room dividers or panels, which may shut in on the areas and make them seem even smaller.
💡 Rugs were used as saddles in some cultures.
Coordinating area rugs
Check that all of your rugs, as well as the décor and furnishings, complement. Although it may be enjoyable in a multi-room home to give each space its design and color, doing so in a studio apartment will end up making it seem jagged. Let the rugs define and separate the areas while keeping the color palette and design consistent. This will make your place appear very stunning and well-presented. Furthermore, using various textures for your rugs generates varying heights, allowing the rugs to lend depth and bring complexity to a plain studio flat.
💡 Ancient tribes wove together reeds and grasses to make primitive rugs and keep the cold ground warm.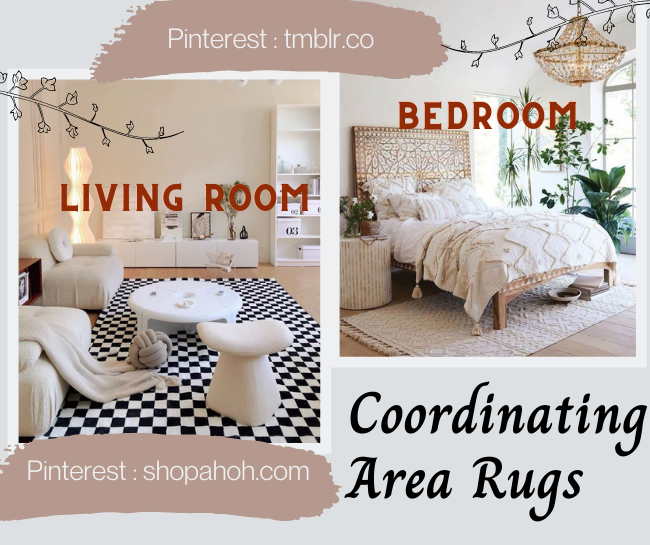 Small bedroom rugs
Whenever you cram too much furnishings into a tiny bedroom, there isn't much room on the ground for an area rug. However, using a rug to tread upon when we get out of the mattress onto a chilly surface is comforting. If your bed is against a corner, a modest rectangular rug will generally take up more floor area. Complement the rug to the color of your mattress or bed sheets.
Use a rectangular rug on the side of the bed to add texture
Create a focal point with rugs
Small area rugs for living room
Use a rug to highlight your furnishings and support your couch and chairs in a compact entertainment room. If your furnishings are a simple solid hue, add a splash of color with a vibrant rug. For instance, a modest area rug with a chevron or geometrical pattern will bring charm to the decor.
Play with different shapes, color, and style
Consider layering
Choose an area rug that is large enough to enable you to lay the legs of your stools on the border. This will assist in anchoring them and preventing the seats from moving on your hardwood or tile flooring. Moreover, a shaggy rug lets a tiny space seem pleasant without overpowering it.

Comment below to share your thoughts, and don't miss our blog on the best accent chairs for small spaces.